59+ Of The Best WordPress WooCommerce Themes
We've got all of the absolute best WordPress WooCommerce themes you can find, updated constantly to keep only the best, freshest themes on this list.  If you're looking to get started with eCommerce, we think WooCommerce is a perfect choice.  Why?  Well, first of all it's free.  WooCommerce was forked from Jigoshop and since then, it's come a long way to become the most popular and flexible solution for selling products online.  Whether you're selling digital downloads or tangible products, WooCommerce can help you set up a shop quickly.  The learning curve is really fast with WooCommerce too, so you won't spend weeks or months trying to learn how it works.  That means you'll have more time to finetune your website and spend your time running your business, not learning all of the ins and outs of the software itself.  If you're selling jewelry, clothers, electronic products and gadgets, digitally downloadable files, rocket ships, candy and cakes or whatever else you can imagine.  Track your inventory, add sale prices, set up shipping, track clicks and taxes.  WooCommerce is perfect for leveling the playing field so you can go tot-to-toe with the big online stores or big-box brick and mortar places you're competing with.  That's awesome.
Anyway, here we go, the very best WooCommerce themes available for WordPress.
Divi Premium WordPress WooCommerce Theme
When choosing between different WordPress WooCommerce themes, one of the top choices is the Divi theme. Helmed by Elegant Themes, the Divi theme is best known for its WYSIWYG editor. Its main advantage is its built-in visual page builder where you can make changes to your website and see the changes applied in real time.
With the Divi theme, everything is customizable including fonts, spacing, CSS, rows, columns, images etc. The Divi theme also boasts a responsive design. It has more than twenty pre-built layouts and 46+ content elements that you can mix and match to create any webpage design element.  As a WYSIWYG editor, Divi allows you to adjust the heights and widths of any page element; edit and add new text content; change the user interface; add, copy, or delete any page design element; and drag, drop, and rearrange any content.
The Divi theme includes different page elements or short codes that can help enhance your website like audio player, blog, buttons, accordions, counters, comments, additional codes, page dividers, email opt-in forms, filterable portfolios, galleries, headers, shops, pricing tables, sliders, social media buttons, tabs, testimonials, toggle pages, videos, and video sliders.
Another feature of the Divi theme is that its dashboard and front-end are both fully translated into 32 different languages.
---
Beatrix WordPress WooCommerce Themes fo Self Employed Entrepreneurs
Selling handmade goods online is a great way to pursue your passion and earn some passive income. Designed especially for creative individuals who want to start a craft store business online, Beatrix is great for clothing stores, jewelry stores, and more. This trendy shopping theme enables you to display high quality images of your masterpieces in the Shop page. There, you can add detailed and effective product descriptions to convince clients to purchase your stuff. Additionally, previous customers can add their ratings and reviews. This is useful considering the effect of peer feedback on people's buying decisions. Being WooCommerce-integrated, Beatrix allows your would-be clients to register and create their own accounts. From their individual account dashboards, they can easily manage their purchases and their shipping info. This way, they are provided with a hassle-free shopping experience. This, in turn, helps boosts your sales. Additionally, you get to manage everything from orders to shipping without leaving your WordPress Admin.
This theme includes free 1 hour customization so you end up with a unique online store that fits the theme of your business. In addition, you get the advantage of free theme updates. You can choose among multiple home page designs and unlimited colors. This theme is also compatible with most popular browsers, and its responsive design and load speed optimization provide a pleasant window-shopping and purchasing experience to customers even while they're mobile. Beatrix lets you categorize your products according to type. The filterable portfolio lets shoppers view the items according to price, ratings, and newness. To further increase your sales, virtual shoppers will be shown a list of related products based on recently viewed items. Show your potential buyers how good they'll look when they buy your products. You can use the Blog section of this theme to post articles and photos of fashion inspirations.
---
Shop Isle Pro Simple WordPress WooCommerce Theme
If you are trying to find a WordPress theme that is also WooCommerce enabled, ShopIsle is an excellent choice. WooCommerce allows you to create a professional and beautiful site to sell any kind of products you are able to envision. WooCommerce also has a lot of addons that let you extend the abilities to promote and sell your products, whether they're tangible or digital products.  Flexibility is a must and ShopIsle delivers flexibility, every time.
ShopIsle, which was built by Theme Isle, one of the leading theme makers around, is well appointed with a whole lot of great features.  This theme is great for beginners, with it's detailed video tutorials and a great support team to help get you started.  They also offer one click demo data installation and you can have a fresh setup within a minute or so, thanks to the fact that the theme was designed to make setup and customization a breeze.  In terms of SEO, Theme Isle themes are some of the very best.  Optimized for speed, with clean and current code, you'll be able to take your SEO game to the next level.  You want a strong online presence and you want to rank high in the SERPs, right?  Well, then you need a theme that offers a clean, easy to comprehend structure to get all of the information you need to the spiders, so they can find and index your content.
SiteOrigin offers you a great drag and drop page builder to go with ShopIsle, which means you can arrange the layout to suit your needs.  You're not locked into a single design.  If you get tired of it or want to highlight something different, just add or remove, even move around, a content block to put the content where you want it.  Take into account that WordPress themes with responsive design are exceedingly very popular right this moment since they enable your traffic to see an excellent website or portfolio regardless of what gadget they use, from iPhones to desktops and everything between. Responsive themes employ media queries to give layouts that fit mobile phones, tablets and so on.
---
Foxy Elegant WordPress WooCommerce Theme
Foxy is one of WordPress WooCommerce themes developed by Elegant Themes, that will complement those who want to create an e-commerce website.  The Foxy theme's primary advantage is its versatility in delivering different design options that is needed in any online shop. It allows up to eight different page templates, namely: templates for a contact form, image gallery, sitemap, advanced search, full width, member login, multimedia portfolio, and blog feed.
Another feature is its built-in ePanel Theme Options that allows you to make changes on your site without touching a line of code. This allows you to adjust regular post design, change navigation tabs and drop down menus, adjust layouts, manage locations of ads, change panel and background colors, manage on-page SEO, and integrate other codes for analytics and social media.  The Foxy theme also allows shortcodes for buttons, boxes, toggled content, tabbed content, drop caps, slideshows, image sliders, password protection, columns, social media buttons, tooltips, customized lists, pricing tables, author information, testimonials, and quotes. With its responsive design, any website running on the Foxy Theme can be viewed in any type of display screen without difficulty. The theme can be easily translated to different languages since it already includes .mo and .po files.
---
Hugo WordPress WooCommerce Themes
WordPress WooCommerce themes like the Hugo is a premium theme geared towards ecommerce sites owners who want their brands to stand out. The Hugo theme boasts of a customizable elegant design that can support the WooCommerce plugin in your website. The main advantage of the Hugo theme is its page builder options. You can build your site pages by using either Elementor, Divi, and SiteOrigin Page Builders. All these page builders are included in the Hugo Theme.
As a go-to theme for an ecommerce site, Hugo includes all the different page templates that a site owner may need like a shop index, testimonials, blog, multiple types of product pages, contact page, and a customer account page.  Furthermore, included in the Hugo theme are different theme options where you can make any design changes to your site, .po and .mo translation files, optimized site pages, and a retina-ready responsive design.  You can create a website that is easily modified with the use of the drag and drop page builder. It allows you to see the changes you made on your site right away.  The Hugo theme is also SEO optimized and includes a built-in option to edit your site's and any post's on-page SEO descriptions.
---
Zerif Pro
Are you in the industry of providing various services to clients? If you are, you'll need a reliable website that will bring potential customers to your website. When it comes to this goal, the Zerif Pro WordPress theme can really be a huge help.  Business websites need to look as professional as possible but still have a quality aesthetic that will appeal to your visitors. It is also important that your services be highlighted early on. With the Zerif Pro WordPress theme, you can design your site to promote your services.
Incredibly simple to use, the Zerif Pro WordPress theme also comes with WooCommerce compatibility which will enable you to set up shop instantly. Even without any programming knowledge, you can still create an online store for your products and services.  Take advantage of the theme's high level of responsiveness, as well. With the Zerif Pro WordPress theme, your visitors can access the full site and navigate through it without fail may they be using desktop computers, tablets, or even mobile phones.  Optimized for search engines, and equipped to be translation-ready, ensure that your page will be found across search engines through different browsers. Your content will also be understood by all visitors, regardless of the language that they speak.
Zero WooCommerce Theme For Online Shops
The Zero WordPress theme is dubbed as a multipurpose theme since it can easily be modified to fit any type of web project. It can be used as a blog for freelancers, portfolio site for artists and illustrators, or as an ecommerce site since it is also supports WordPress WooCommerce themes.
The Zero theme is now on its fourth version. Zero 4.0's main advantage lies in premium features, like the free and built-in Visual Composer and Revolution Slider. You don't need to pay more just to gain access to these added features since they are included in the theme's original price.
With the Zero Theme, you can promote your business' brand online through seven different page formats. Included theme features are built-in shortcodes, theme options, responsive design, translation ready files, boxed and wide layouts, sticky navigation options, vector icons, unlimited color options, clean code, social media integration and different homepage layouts.
When used as an ecommerce site, you do not need to install the WooCommerce plugin separately since it is already included. You can upload your product pages right away and start selling once your site goes live. The Zero WordPress theme is sold by TeslaThemes.com and can be purchased solo or as part of a developer package.
---
Shutterbox WordPress Photography WooCommerce Theme
WooCommerce is a wonderful, smart (and cheap!) way to sell your products and GraphPaper Press has designed a theme that can really make your store look it's best.  Offering a well-organized and contemporary style, the masonry grid format choice is an excellent method to create a way to perfectly focus attention on your products or portfolio.  If you want to connect with your audience and really instill confidence, a well designed website is incredibly important.  That helps sell products and that's why you're going into business, right?
GraphPaper Press created Shutterbox to be a well-appointed WordPress theme that provides lots of functions to give it a clean, modern look, irrespective of what type of products you're selling.  The theme itself can be customized with ease; there's almost nothing you can't customize from home page layout to the look and feel of product pages, blog posts and portfolios.  Looking for a responsive design?  You're in luck, Shutterbox is completely responsive.
---
Woow Modern WordPress WooCommerce Themes
WordPress WooCommerce Themes like the Woow Theme comes with the WooCommerce plugin built into it. This user-friendly theme allows you to choose between four different demo styles: fashion demo, furnishing demo, jewelry demo, and electric demo.
The theme also has premade page layouts for lookbook sliders, home category pages, and a home products grid. The Woow Theme also comes with a built-in Visual Composer and Revolution Slider and allows you to make your site pages easily without touching lines of code.
As with any ecommerce site theme, the Woow Theme allows you to manually add any product page and make variations on each product page depending on the type of item that you are selling.
On its home page, you can choose between different navigation styles. The theme is retina-ready, responsive, and will display on any type of screen. Thus, it's convenient for any type of user.
The shopping cart can be positioned on the right sidebar or as a dropdown menu from the screen's upper right corner. Aside from the Visual Composer, you can also build the site pages using WooCommerce or WPML. Other features include are 600+ font styles, colors, customizable design elements, .po and .mo translation files, and online support from the theme's creator.
---
X Premium WooCommerce WordPress Themes
X offers unique options when it comes to designing various industry-specific or multi-use WordPress websites and that high functionality extends to eCommerce websites. To begin, this WP theme offers four different categories of demo pages to choose from, and within each category are many layout choices that may best suit different types of web building projects. If you do not have developmental or coding knowledge and want to get started as quickly as possible, choosing one or more of these pre-built pages can be an excellent decision. These layouts offered by the X WordPress theme include various home page designs, portfolios and galleries, blog pages and even e-commerce shops to sell your products with style.
If you prefer to create a truly unique structure instead of using a demonstration page, X comes with and amazing page builder plug-in called Cornerstone. Everything can now be handled with a convenient WYSIWYG editor that allows you to see precisely what the end page will look like as you design it. Even the base beginner will feel confident in his or her ability to create an attractive and professional website by simply dragging and dropping content blocks into place.
These blocks or elements have a wide variety of uses and purposes that can create a very feature-rich website in a user-friendly manner. The X WP theme has multiple extensions currently included and developers add more all the time.
Since X has so many features and benefits, reading the in-depth theme description and review may help you get a better look. Even without the extra information, choosing this WordPress theme makes sense due to its flexibility, huge number of included features and its popularity.
---
MoneyFlow Wide Screen WooCommerce WordPress Themes
For those individuals who dream of earning a living from home, the Money Flow WordPress theme offers the perfect platform to explore various opportunities and earn greater profits than ever before. It is chock full of up to date features, highly customizable and completely integrated with the most popular monetization methods on the Internet today. Money Flow offers highly intuitive web page creation tools to get you online with a professional site quickly. To make money, consider utilizing its one click AdSense set up or starting your own shopping mall with the powerful WooCommerce plug-in.
Although the features sound considerable and complex, there is no need to learn any coding or development technology in order to create and attention-grabbing site. The live demonstration showcases many of the features that can help you create your own flow of income from the convenience of your home office. Complete documentation and user manuals are also available. The Money Flow WP theme offers full responsiveness so the site can be worked on or viewed even when you are away. International business is facilitated with complete translation capabilities, which allow you to expand your realm of influence and increase profits. Money Flow provides everything necessary to create and launch a modern WordPress website that has the potential to make you a considerable amount of income over time.
Mango Grid WordPress WooCommerce Theme
Mango is a totally Responsive WordPress plus WooCommerce functionality theme that is very customizable, no matter what you want to use it for, easy to use and fully responsive, not to mention retina ready. Suitable for every type of business, portfolio, blog and ecommerce sites. Great as a starting point for your custom projects. Mango includes a whopping 20 demo layouts and skins and it has huge variation to be suitable for any purpose. More amazing features are coming soon!  This multipurpose theme packs in plenty of widgets, unlimited footer types, a one page template, social sharing features (you know you love that), custom elements for Visual Composer and it works great with Yoast's SEO plugin, so the traffic will flow to your Commerce site.
---
Suprema Wide Screen WooCommerce Themes for WordPress
The WooCommerce powered WordPress theme Suprema is one of the finest eCommerce templates to come along in a long while with loads of cool and fun features that let you to create and manage any sort of product line you can imagine, from digital downloads to hand crafted clothing, designer handbags or shoes to electronic devices and accessories, even cosmetics.  Really, Suprema is great for anything else you can imagine.  If it can be bought and sold, Suprema can help you bring it to market in a professional and attractive way.  Suprema is well designed with an intuitive back-end that allows for quick changes and tweaks to any setting in the entire theme, from fonts and colors to layout and features.  Visual Composer premium plugin is included for free and it allows you to set up a truly unique layout by simply dragging and dropping content where you need it to be.  Don't worry if you're not a seasoned graphic designer, you can still make Suprema look fantastic, since it comes complete with many different pre-built designs too.  Get started building your business instead of learning to code.  This responsive theme loads fast, so SEO will be no problem with Suprema and the fast load times really help you to rank.  One click demo data import makes it a breeze to get started, extensive documentation helps you if you run into any problems along the way and the support is incredible if you do happen to run into problems you can't solve on your own.  All in all, Suprema is a wonderful choice if you need to start an online WooCommerce business.
---
Ione Clean, Modern WooCommerce WordPress Themes
Regularly updated and checked for quality, the iOne, one of WordPress WooCommerce themes, is a minimalist theme that can be used for different types of websites.  It is highly-responsive, which means that it can work well across multiple browsers and accommodate the orientation, image sizing, and resolution requirements of different devices from desktop computers to mobile phones. Perfect for those without a strong programming background, preset templates are readily available with iOne. Just choose a template and start customizing from there. A variety of customization tools are also available ensuring users that they can make their websites truly unique.
Easy to install, iOne is equipped with a mega menu feature which offers users a larger menu display for their website pages. Background images can also be applied to the menu for a more professional feel. Animated sliders are also accommodated by this theme which allows users to create effects that will surely appeal to website visitors. WooCommerce compatibility, Ajax cart support, and a wish list feature, are additional components that users can take advantage of if they wish to include a working store on their site as well. Lastly, integrating Instagram into the theme allows users to easily use real-life images to complement their website content and market their social media page.
Savoy Minimalist WooCommerce WordPress Theme
Streamline your eCommerce shop with Savoy, a simple, contemporary and stylistically WordPress minimalist WooCommerce template.  The slim and trim design puts all the focus on your products, and the AJAX functionality (built right in) promises top-notch user experience on desktop or mobile devices alike.  This state-of-the-art theme is novel, the latest in a line of full featured templates to use Visual Composer to craft a tight, new-age design.  VC makes it possible to design a page to look how you want it to look.  The theme also offers touch enabled sliders, featured product video, a full width optional layout, quick-view of products, 'lazy loading' for product images (helps site load times) retina ready graphics, SEO optimization and so much more.  WordPress and WooCommerce can really help get your business flying.
---
Amaryllis Simple, Bold WooCommerce WordPress Theme
Amaryllis is an amazing, attractive and powerful WooCommerce WordPress theme with a special looking design that will help your online shop look and sell like  champion.  The drag and drop homepage ensures you'll have a responsive site that behaves just like you need it to, and the built in SEO features will help it to rank high in the SERPs, while loading quickly and efficiently.  Amaryllis fully supports WooCommerce, the most popular and powerful free eCommerce plugin for WordPress.  There are a load of custom widgets to help add social networking functionality, like Twitter feeds, Flickr image galleries and plenty more.  This theme also boasts full integration with Jetpack, including customization, traffic stats, mobile content and a lot more great stuff.
---
Yaga Minimal WooCommerce WordPress Themes
Yaga is a modern and minimal, 100% responsive multi-purpose and beautiful WooCommerce WordPress theme packing lots of incredible features into a well designed premium theme.  Yaga is perfect for creating a memorable and pleasurable online shopping experience for your customers.  The simple, modern design puts the focus where you want it, on your products.  The website's design is so elegant and clean, it is visible, but doesn't call attention to itself. Yaga is powered by the PeHaa page-builder, that has twenty page element modules (more coming all the time by the way) and those allow you to order all your content just where you want it.  Your layouts have as much flexibility as you need and that's page to page too, so every one of them can be different.  WooCommerce is an ideal way to sell your products online.  For beginners, it's wonderful to be able to set up a website quickly, without having to learn a bunch of code.  That's definitely the case for WooCommerce.  Now, it's still completely customizable for the expert user, but for beginners, it's easy enough to get cracking right out of the box.
---
Blanco Minimalist WooCommerce Theme For WordPress
Blanco, one of the WordPress WooCommerce themes, is a premium theme that offers numerous features for those who want to create their very own website, complete with a selling area.
It is compatible with WooCommerce allowing users to create an online store directly on the website even without any PHP or HTML coding skills. Simple and user-friendly tools allow for easy development throughout the store and site's pages.
Offerings are displayed using a grid-like pattern which is not only easier to navigate, but more organized, making it easier for visitors to see what's available or find what they need.
There is a mega slideshow function that can be used to highlight different types of content, promotions, services, or merchandise. Integrated with various social media channels, the Blanco theme also allows for easy content sharing while promoting the user's social media assets.
With its easily-customizable design, users of Blanco can really make their site unique. There are unlimited color variants, usable font styles, and different layouts and templates available.
The Blanco theme has also been optimized, which allows users to use different templates. Users also get that added boost that will send them to the top of the charts when potential clients run a Google search.
---
Supermarket WordPress WooCommerce Themes
Don't get lost in a SuperMarket.  This delightful WooCommerce ready WordPress multipurpose theme is a good method to start an online business, even if maybe you're not quite a specialist in programming, as it will be conveniently adjusted to accommodate your preferences. This sleek style looks great on each and every device since it's completely responsive. If you are building a business, shoppers are certainly important and permitting them to access your site everywhere at any time is crucial.
WooCommerce and Super Market guarantee all the options you need to create a small business fast and effectively and this exquisite, well designed and cool eCommerce WordPress theme is the first step on a route to developing your own online business. If you are promoting boots and shoes, outfits, electronics, downloadable items like movies, videos, music or computer software, this great looking theme is an ideal selection because it's so flexible.
With a stunning WooCommerce web template like Super Market here, you can make a site to promote clothes, shoes or boots or anything you can imagine. Super Market makes it all possible.  Well, with a big assist from WooCommerce.  There are many options available in Super Market that will help you promote your products with incredible style, such as galleries, menus and a wide range of different layouts to choose from that offer your site a distinctive style. The support offered with this WooCommerce theme is unrivaled, so that you can feel assured that if you come across problems you will have help as needed.
---
Shopkeeper WooCommerce WordPress Theme
Shopkeeper is a finely constructed WooCommerce shopping theme which could also work for a portfolio page for your website, allowing you to blog about your products and, of course, for selling products.  Developing your web-page will be rapid and straightforward, since the theme itself is malleable enough to build a fresh WordPress based site that fits perfectly with your needs.  This fluid and responsive theme is designed with both admin and end user experience in mind.  The landing page option, as well as the ability to craft a perfect looking corporate or advertising agency page, personal or professional portfolio using the parallax features, full-width sliders and product pages.  Don't worry, there are a lot of pre-built layouts for you to choose from if you don't want to create one yourself.  The fact that the support is top-notch shouldn't be ignored either.
Shopkeeper utilizes Visual Composer, a free plugin that lets you build very advanced layouts for pages, posts and even the homepage.  Want to switch things up?  Just drag and drop the elements where you want them to go.  No need for coding at all.  That's pretty handy.  Revolution slider, which is included for free, will bring your readers an interesting and compelling introduction to your content.  Sliders like the Revolution slider really do add a level of professionalism and excellence that will help set your eCommerce theme apart from the crowd.  You'll be taking orders and shipping them out with ease, manage your inventory and catalog all the goods and services you offer.  The header navigation can stick to the top too, which can be a good option.  If you need a new website, or just to update your old set-up, Shopkeeper may be the right choice.
---
The Leader WooCommerce eCommerce Theme
The Leader is a truly premium WooCommerce template, with a professional design and clean code.  Based on the newest Bootstrap framework (and updated every time Bootstrap updates) The Leader is a flexible and powerful platform to support any kind of website.  It's multi-purpose, so corporate sites, portfolios, blogs, business and personal pages will look great.  Mobile devices too! We think a delightful WordPress wooCommerce theme with powerful Bootstrap based ingredients is a perfect choice to help build your business online.  In a world where competition keeps getting stronger, you've got to adapt.  This lovely, innovative, well made, extremely flexible and user-friendly WooCommerce theme will allow you to develop your small business, communicate with shoppers, advertise existing merchandise, administer shipping and product stock and launch brand new merchandise and a lot more.
---
Fitshop eCommerce WooCommerce Theme
Need a WooCommerce theme?  This innovative, adaptable, user-friendly, attractive and efficient WordPress theme enables you to market old goods, expand your company, promote brand new items, communicate with potential customers and supervise shipping and your stock and a lot more.  Fitshop is a WooCommerce ready WP theme great for just about any sort of online store, and it's coded with Bootstrap 3 for it's reported dependability and quick pageload times to keep Bing and Google pleased. The Fitshop demonstration was meant to be a clothing retailer, but there's zero restriction to which kind of products you could market utilizing this web site, from gifts to computer equipment, sporting items, pet supplies and various other style of business in which you need a feature-rich eCommerce solution at a good price.  If you need a WooCommerce theme, Fitshop may be a good…fit?  Groan.
---
Cypress WordPress WooCommerce Theme For Fashion Stores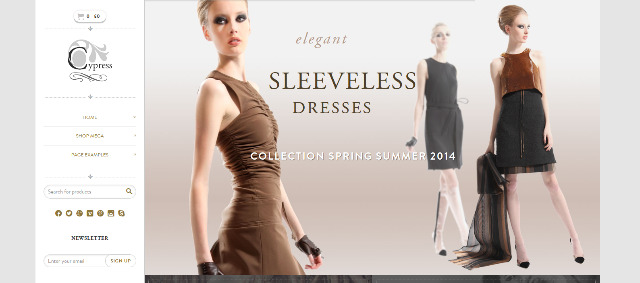 Cypress is an amazing WooCommerce ready theme that comes complete with the free Aqua page builder plugin, which makes it easy to build new pages in a snap.  Revolution Slider is also included, and this WooCommerce theme is translation ready too.  We've seen some great Woo powered themes so far, but the best is yet to come.  Really a powerful eCommerce solution. This clear and simple and awesome WP theme is completely and utterly full of some excellent features that make it quick and painless to generate a new site very quickly!  Cypress has been updated to be compatible with the latest Woo versions too.
---
Reno Popular WooCommerce WordPress Themes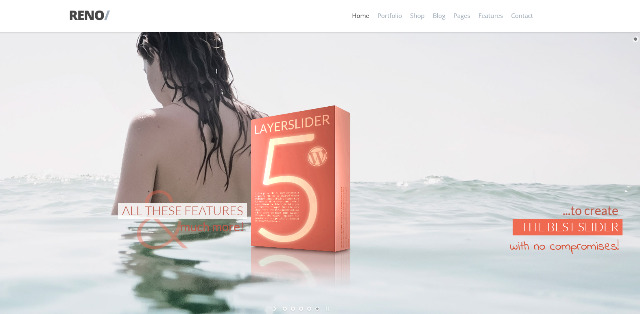 Reno isn't just the second most popular town in Nevada. It's also a pleasant seeming multi-purpose WooCommerce compatible WordPress blog and theme, ideal for persons or businesses alike. Reno is retina ready, translation ready, parallax scrolling, Bootstrap built, slider friendly and plenty more. Reno provides an unmatched liquid layout due to the reliable Visual Composer drag and drop plug in, which is provided at no cost. Free is a very nice price. Showing off your outstanding work with parallax style layouts is fun and can be an unbelievable feature virtually anybody would approve of.  Reno is a stylish template that you're going to love to turn into a wonderful online shopping experience for your customers.  Now, on with the countdown of the best WooCommerce themes around.
---
Megatron MultiPurpose WooCommerce Theme
This theme, Megatron for WordPress, is one of the better looking WooCommerce and portfolio themes to come along in the month of January of 2016, and the sales are already fantastic.  Why?  Well, Megatron is perfectly crafted to showcase your videos, photography, design projects and more with many different responsive grid layouts.  And there are just as many ways to sell your products too.  WooCommerce makes it incredibly simple to make an impactful and successful WordPress based eCommerce site.  Visual Composer makes sure your layouts are exactly how you want them to be and Megatron is a professional way to sell your products on the internet, whether you have real tangible products, or you're selling things meant to be downloaded like eBooks, video clips, stock photography or songs.  Your SEO should be a breeze with this theme, since it loads incredibly fast (Google loves that) and it's relatively lightweight with it's Bootstrap 3 core code and lots of short-codes that help to add features and options to any page, post or widgetized area on the theme.
---
Munditia Minimal Blog and WooCommerce Theme
Setting up an online shop can be quite intimidating but not with the user-friendly and highly functional Munditia, one of the many WordPress WooCommerce themes.  The Munditia theme is responsive across devices and can accommodate changes in orientation, sizing, resolution, and the like. It is also compatible across multiple browsers, ensuring that visitors will be able to access websites developed using the theme every single time.  It is ideal for creating online stores because it is compatible with WooCommerce. With a few clicks and design modes, users can easily create their ideal online store. They don't even need to have any background in programming for this.
Unlike other themes, Munditia offers a zoom function which can be useful when highlighting various products for sale. Consumers want to see every detail and this makes it possible for them to do so.  The design is simple yet classy, providing an appealing aesthetic. The unique way it presents products: categories, additional image on hover mode, add to cart function, price and discount display, makes for an even better user experience.  Users also gain access to a reliable admin panel where they can make design changes to the theme with ease. From the coloration to the font types, menu, content buckets, and positioning, it is fairly easy for users to make the changes they want.
---
Gather Simple, Easy to use WooCommerce Theme
The WooCommerce plugin helps make Gather a strong eCommerce platform, to go right along with it's amazing blog and filterable portfolio capabilities.  Gather is the right combination of incredible style, clean lines, great code, tasty waves and big time features.  Gather is a straightforward, spotless, and classy portfolio theme that configures itself to every screen size. This is certainly considered one of the best ThemeTrust themes. Set full screen background illustrations or photos to clearly bestow every photo, post, or page it's own persona. Easily make a collection of imagery in to a slideshow. Rapidly alter features of the theme's design with an internal options panel. Choose and upload your company logo image. Every theme that you purchase has life time support.  ThemeTrust really puts a lot of time and effort into everything they offer and they also offer up great support, so you really can't go wrong with their products.  Take a look at their products.
---
Webmarket WordPress WooCommerce eStore Theme
Webmarket is, not shockingly, an online WooPowered theme for WordPress.  It's retina ready, so your products will look great with high-resolution images.  Also, it's responsive, had wide and boxed layout versions, loads of color combinations and more.  WooCommerce sales page themes really need to be responsive.  Demo data is included to get your website working right out of the box and from customer reviews, their support is unrivaled.  We think WooCommerce is the best selection for starting an online shop on the cheap, because it's free and free is a great value.  We think a sweet looking, easy to set-up WordPress WooCommerce theme with outstanding features is a wonderful way to go, especially if it's 100% responsive, retina display ready and offers the level of support that Webmarket does.
---
Tyrion WordPress WooCommerce Themes

WooCommerce and parallax are a delicious combination and Tyrion provides it with this completely responsive offering.  And more.  This theme is by the same folks who created the Bazar and Maya themes, so it's coded properly and has a lot of the same great features as those two all-time-greats.  Quality code.  Boat loads of positive reviews on Themeforest.  Fresh design.  Great support staff.  This thing has a lot going for it, which is nice!  A beautiful and well thought out WordPress WooCommerce theme with this array of cool features is tough to find, but well worth it.  Tyrion also offers the optional 'quick view' for products.  I've been asked by more than one person to start highlighting that feature, so there you have it.
---
BlackShop WooCommerce WordPress Fashion Store Theme
BlackShop is a well designed WooCommerce/eCommerce theme, it's responsive and coded with the freshest HTML5 and CSS3 code around, it's simple, airy, clear and bold, with a modernist design and simple, highly functional layout and navigation.  For a website selling products like technology gadgets, computer parts or laptops, digitally downloadable products and more, BlackShop could be a nice choice to help create a modern, clean design that helps smooth the process of buying and selling your products online.  There are eight unique layouts for the front page, each one created with a bold and modern design and plenty of white space.  The demo sites show BlackShop used as a kitchen appliance store, a supermarket, a fashion shop or a furniture store, but there's almost any sort of site that would look great with BlackShop.  BlackShop is responsive and thanks to Visual Composer, there's nothing you can't create with it.  Every design, every layout is within your reach, even if you're not an expert web designer.
---
Monaco WordPress Vintage WooCommerce Theme
Monaco is an enormously strong, substantial and committed, safe and sound, wide-ranging and widely appealing WordPress theme.  It's stylish and enormously eye-catching, not to mention technically brainy and well made.  In terms of user experience, it's very consumer and webmaster friendly, methodically crafted and aesthetically finished responsive.  This WordPress classic multi-concept, multi-purpose theme is a real winner. Monaco is an exquisite WP theme which has been painstakingly manufactured with the utmost care and attention to detail.  The result is a fantastic WooCommerce ready WordPress blog template that can help online businesses of any qualifications or ability to create their online presence.  You can perfectly and promptly establish the most fascinating, classy, functional and effortless vintage or retro style web sites.  Doesn't even matter what genre you're in, any objective or design looks fantastic. To make this dream a reality, Monaco is actually given an excellent listing of programs, capabilities, plugins and also resources which make internet site developing and web site configuration and construction very quickly.
From the included Visual Composer, the premier drag and drop page builder, to the refined Revolution Slider premium quality WordPress plugin, and genuine, extensive WooCommerce integration, this theme shines.  Monaco is a full-featured vintage or timeless designed WordPress blog theme, with single page and multipage options.  There are delightful Parallax areas for making a fantastic user experience along with the smoothest style and design.  Throw in the absolute most thorough documentation and support for you to make the most of Monaco from the start, you've got a theme that' a real winner.
---
Shopsy Modern WooCommerce Themes

Remember when shopping was fun?  Shopsy does!  Who am I kidding, shopping has always been fun and it still is.  That said, Shopsy is a Bootstrap 3.0+ page builder WooCommerce template that has a really fun masonry grid product display system.  I think this woul dbe great for products for kids and moms alike, or just about any kind of online fashion store.  Maybe even sell some fun art?  The sky is the limit with Shopsy.  This very flexible, innovative, well made, gorgeous and user-friendly theme allows you to grow your business, promote existing merchandise, supervise delivery and product stock, contact potential customers and market fresh merchandise and more. This premium WordPress WooCommerce theme is adaptable, superb, user-friendly, well made and filled with features, it's versatile, search engine optimized and modern, responsive, perfect for computer stores, bicycle suppliers, makeup products, marketing firms or small brick and mortar businesses. Choosing to buy a high quality WooCommerce theme can really help you create a really good first impression.
---
FrontPage WordPress WooCommerce Magazine Theme
Frontpage is a flexible and responsive WP theme that is truly multipurpose.  Is it a blog, a magazine, an online store or a static website?  Well, Frontpage is all that and more.  Frontpage maximizes the adaptability with multiple layout options, a responsive design, custom widgets, built in short-codes and more.  This gorgeous, user friendly, cutting edge, extremely flexible and reliable WooCommerce WordPress theme enables you to promote old products, administer delivery and your stock, contact buyers, market new items and grow your business and much more. This WooCommerce theme is simple to use, well-built, versatile, packed with creative features and brilliant, it's immaculately coded, flexible and dynamic, perfect for small businesses, sports equipment distributors, furniture, marketing businesses or computer retailers. You can deliver a great first impression with a stylish WordPress WooCommerce theme.
---
MagFolio WordPress WooCommerce Magazine Themes

Selecting a high quality WooCommerce WordPress theme can really help you deliver a lasting first impression.  If you've come in search of a new Bootstrap 3.0+ Woo Commerce theme, Magfolio here maybe a great option.  GT Shortcodes are included and so is HTML5 and CSS3 code that is pure as fresh snow.  But you can't make a snowman out of it.  Rest assured, your customers will really love their time on your page, and that's because this cool theme has first-class  support and it's got a thoughtful design too.  This simple to use, innovative, well made, pretty and extremely flexible theme helps you communicate with potential customers, grow your online business, advertise old items, market new merchandise and administer delivery and product stock and a lot more. This great looking WooCommerce theme is well built, functional, filled with creative features, very easy to use and beautiful, it's adaptive, SEO-friendly and purely responsive, great for hair care products, publicity businesses, small online shops, computer or phone merchants or sports equipment merchants. A gorgeous WordPress WooCommerce theme with good features is a amazing way to go for your site, allowing you to spend more time on your products and less time fiddling with the website.
---
Dorian Minimalist WooCommerce WordPress Themes
The Dorian WordPress theme has an amazing number of options cleverly combined with a simple style that provides the perfect backdrop for your textual or graphic content. It has a high rating among users, extensive documentation to answer any questions and capabilities that are not found on other themes that cost as low as $59. For that price, website designers and developers may not expect so many different features, but Dorian offers 21 separate homepage demos, five different blog post layouts as well as full WooCommerce integration for making sales in a professional manner. Also included is the Edge Options Panel that offers a highly user-friendly way to customize every page.
Website owners who want a premium experience but do not want to use Woocommerce to create an online store have plenty of other options. The powerful Visual Composer plug-in allows for drag-and-drop styling. Slider Revolution helps build as many slideshows as you desire. Contact form seven lets customers and clients get a hold of you securely and WPML support means visitors from around the world can view your site perfectly in any language. Combine this with video customization options, tons of shortcodes and clean creation for fast load times and the Dorian WordPress theme is an excellent choice for all of your online projects.
---
Sober Wide Screen WooCommerce Themes
Sober is a modern, well designed and beautiful WooCommerce theme for WordPress.  If you're looking to start your own business online and you still haven't picked out a website design, I think Sober could be a great choice.  Why? Well, Sober is responsive and that's incredibly important today.  Responsive themes make it possible for your readers and customers to access your web content and products on each and every device they own.  From smart phones all the way up to desktop personal computers and everything in between.   Sober is unique, it's modern and it was created using Bootstrap, so the code is rock solid and well supported.  Did we mention the load times?  Sober is among the very fastest themes available and that really helps with SEO, since faster load times strongly correlate to better SERP rankings.  If you're running a business, every single click you get can be an important lead.
From furniture stores to handmade crafts, marshmallows to purses or handbags, clothing shops to book stores, there's no type of online commerce that can't be accentuated and helped out by a strong and well crafted theme like Sober.  Luckily, you don't need to be an expert coder to create an amazing theme with Sober, since the options are very intuitive and easy to manage.
---
Ibuki Easy to use WooCommerce Themes
The Ibuki WordPress theme offers modern, flat styling built with proper HTML5 coding on the Bootstrap 3 framework to maintain the websites full responsiveness and ultimate customization options. This theme offers grid-based styling that suits creative professionals, agencies, photographers and artists best of all. The premium WooCommerce and Revolution Slider plugins are included for additional benefits. Every aspect of a site built with the Ibuki WP theme can be rearranged using the intuitive page builder backend and the many shortcodes that make layout tweaks as simple as copying and pasting. Presenting your creative work in a professional manner is simple with Ibuki and every visitor to the site will appreciate not only the aesthetics but the ease of use of every element.
You want a fast loading one page theme?  How about a 98 out of 100 on Pingdom?  Google page speed of 92 or a YSlow rating of 91.  Lightning quick load times really help SEO too, so you can rank your content really high with Ibuki.  That's all about code quality.  This theme is well reviewed and also well maintained, Bluxart is constantly updating it with new features and if you want great support, it's there when you need it.
---
Anaglyph WordPress WooCommerce Template
ANAGLYPH WordPress theme offers modern flat design in a dynamic package that can help you create visually arresting pages for any purpose. This responsive theme offers feature-rich options, an intuitive and user-friendly administration control panel and the ability to tweak layouts and structures of any page on the site to best showcase the text, graphic or video content included therein. ANAGLYPH provides expansive options for non-developers who want to customize and build a professional, polished site without knowing any code at all. Its malleable styling allows for nearly unlimited transmutations of design without complexity.
The powerful technology, which includes the Bootstrap framework and all proper HTML5 and CSS3 coding, allows the ANAGLYPH theme to support all manner of custom elements and features. Although that sounds impressive, people with no web development experience can still build and modify excellent sites using the Visual Composer plug-in. Use one of the professionally configured page layouts or simply drag and drop elements and blocks wherever you want them on each page. This theme is fully integrated with WooCommerce so you can easily sell digital or tangible goods from your site. ANAGLYPH offers minimalistic, flat style combined with the power of customization that allows for 3D design if it's wanted. This powerhouse theme can fulfill all needs for a professional online presence.
---
Vigo Shop Supreme WooCommerce Shop Theme

These days, minimalist designs truly take the cake. Not only are these easy on the eyes but carry a more elegant aesthetic. For brands that want to create a classy online store that will impress online visitors, one of the best e-commerce layouts to use is the Vigo Shop, one of the WordPress WooCommerce themes.
This theme is fully responsive. It can be accessed across different web browsers, from Firefox to Chrome. It can also be viewed either in portrait or landscape orientations. Vigo Shop has also been coded to easily accommodate the display requirements of various devices.
Users will gain access to different customization tools that will allow them to add their own unique spin to their online store. As a bonus, free Google fonts are also available for Vigo Shop.
Quality-checked and regularly updated, the theme provides two options for sliders, one in portrait mode (boxed), and the other in landscape (wide). This allows its users to utilize a wide array of images without having to worry about uneven or stretched displays.
Merchandise can also be displayed either in a grid or a list. Descriptions can be added underneath the product title and so can star ratings. It has a shopping cart, wish list, and comparison features too.
---
Tech Go Store WordPress Tech Store Theme

There are different themes that can be used to create an online store. What separates TechGoStore, one of the WordPress WooCommerce themes, from the rest is that it is geared towards a more driven, adrenalin-pumped, tech audience.
The theme simply exudes energy as their green, red, black, and white color scheme will surely get you pumped for action.
The beauty of the TechGoStore theme is it is built for speed. Its overall aesthetic is clean and crisp. With the help of a larger menu feature, users can conveniently input more information into one of the first elements that visitors will access.
It is also highly responsive. So, regardless of the device used by the visitor and regardless of the display orientation, users can rest assured that their websites will be viewed the same. This also ensures that there will absolutely be no functionality issues across browsers or devices.
Users can customize the theme to their liking and even make use of a 3D slideshow for an even grander effect. Armed with clean and validated coding, users don't have to be programmers to take full advantage of the theme. Also, with its translation-ready feature, anyone across the globe will be able to understand your content.
---
FlatSome Flat WooCommerce Theme
Like most WordPress WooCommerce themes, Flatsome is highly customizable. However, it's got an edge as it also comes with pre-made demos for those who have simpler, more predictable needs and little to no coding skills. Though, that's only one of the things that make it one of the bestselling WordPress WooCommerce themes. It's not just the colors that one can change: the resulting look is highly dependent on what images will be uploaded, and which layout the user chooses.
The theme tends to favor image-heavy functions accented by short headlines, at least in the homepage. Inside, there's more freedom with iconography, texts, and functions. The beauty of the theme is its ability to serve a variety of needs: e-commerce shop, blog, or corporate website. Using the Drag and Drop Page Builder is a smooth, kink-free experience that relies on the user's visual taste rather than his or her skills and training (whether in design or coding). To offset the margin of error, the theme imposes built in proportions and grid parameters. There remains a fantastic balance between customizability and aesthetic integrity. Flatsome certainly isn't meticulous when it comes to users: no matter how much freedom you want, it seems to accommodate your skill level just fine.
---
Stock Photography
If you want a different approach to photography ecommerce sites, you better take a look at the Stock Photography Theme by Graph Paper Press. This theme's main advantage is in giving you a theme for your online shop's website where you do not have to rely on any add-on ecommerce site plugins. The Stock Photography Theme includes a built-in Sell Media plugin that allows you to run an ecommerce site while you keep all the money for your online earnings.
Another feature of the Stock Photography theme is that it looks like a professional search engine for stock photographs. You can easily manage the theme's customization options in terms of colors and design scheme of the site while still retaining the reliable basic structure.
Just like other Graph Paper Press theme, it has a responsive design and will seamlessly display in any monitor or screen size. It also has a Slideshow option and an Unlimited Galleries where you can showcase your images. The Stock Photography Theme will transform your website into an elegant database of stock images and prints.
Additional features included in the Stock Photography Theme are: built-in .mo and .po translation files, HTML5 markup codes, automatic theme updates for active members, customized widgets, and premade page templates.
Venedor
This spectacular WooCommerce compatible WP theme is an effective way to start a business online, even if you're not a guru in programming, simply because it may be straightforwardly modified to accommodate your business needs. This sleek design looks awesome on any size of screen because it's coded to be responsive. If you happen to be establishing an internet business, potential customers are plainly vital and letting them to access your web site at any place anytime is really important.
WooCommerce provides all of the equipment that you need to create a business promptly and successfully and this wonderful, smartly designed and contemporary eCommerce WordPress theme is the initial step on a path to establishing your online business. No matter if you're marketing footwear, shirts or dresses, electronics, downloadable products like movies, videos, tunes or applications, this great looking theme is a wonderful option because it is so adaptive.
With an amazing WooCommerce ready theme it is possible to build a website to market clothes, shoes or boots or any thing else. There are many advantages that will assist you present your products in style, such as galleries, menus along with a number of templates to select from that give your site an amazing style. The assistance you can get with this theme is second to none, to help you feel confident that if you come across troubles you will have guidance should you need it.
---
Gomarket Light-Weight WooCommerce Themes
GoMarket is a light-weight theme, but it's got all the functionality of a site that has a lot more of the bells and whistles that bloat the load times of some stores.   We think a good-looking WordPress wooCommerce theme with this many supreme looking pre-made styles is a incredible way to go for your business, because it saves so much time.  There are demos showing the design for an electronics store, fashion mall, a device store for computers, laptops, tablets, smart phones MacBooks and more, a furniture shop, lingerie and sleepwear store, a gardening shop and many, many more..  So if you want to keep it simple, yet very directed to one of these businesses, GoMarket is a good choice.  This modern look could be great for a lot of different uses, as long as your customers appreciate the clean, almost minimalist look.
---
SuperShop
This lovely, user-friendly, multipurpose, well built and new and innovative WordPress theme will allow you to promote existing merchandise, market fresh merchandise, expand your business, manage delivery and your stock and get in touch with customers and more.  With a wonderful WooCommerce web template you may establish a website to market clothes, shoes or boots or anything else. There are many features that can assist you market your products in style, such as menus, galleries along with a wide range of design layouts to consider that give your website a wonderful design. The assistance you can get with this WooCommerce theme is unequaled, so that you can feel confident that if you face problems you will have guidance when you need it.
WordPress is a fantastic way to get started with an internet business, even if you're not a professional in programming, since it can be effortlessly altered to accommodate your preferences. This streamlined style looks astonishing on any size of screen because it's perfectly responsive. When you are setting up a business online, buyers are undeniably vitally important so letting them to gain access to your web site anywhere anytime is very important.
WooCommerce guarantees all of the options you need to start up a business promptly and economically and this spectacular, smartly designed and contemporary eCommerce WordPress theme is the 1st step on a route to establishing your own online business. Whether you're selling shoes, apparel, gadgets, downloadable goods like films, videos, mp3s or applications, this fantastic theme is a great option since it is so adaptive.
---
Delphinus Minimal, Modern WooCommerce Theme
Delphinus is a creative and multi-purpose WordPress theme that offers a modern take in development and innovative tools that will help users create the best online store from scratch. With its clean and clear theme design, you can easily create an elegant and professional-looking online store that will surely impress your visitors and customers. The availability of powerful theme options enables users to customize each and every part of the site's pages with ease add to that the 6 specialized WooCommerce shop layouts that are directly available for use saving users time and effort in the development phase of the project. From the Masonry, Grid, Preview, Gallery, and Mini layouts to the freestyle option, you can develop any type of layout you want via Delphinus' drag and drop functionality. With the theme being fully optimizable for search engines, users can rest assured that their pages will not be lost in cyberspace.
Other features add to the applaudable functionality of this WordPress theme. Create content the traditional way if you wish or fast track it with the built-in visual composer which also makes for a more responsive outcome. Complement content with a handful of the stylishly-designed Icon Mind icons that add special notes to every line. Being revolution slider ready, users can easily track their progress in live view enabling them to focus on even the tiniest details of their design. Free support and updates ensure that users are guided every step of the way. A team of professional support experts are always available to answer queries on the theme and assist in every way possible. As if these features were not enough, Delphinus is also equipped with a full suite of Ajax e-commerce components from the shopping cart to the wishlist. Even the add to cart, filter, and pagination functions are all Ajax-powered for an even more responsive yet easy-to-manage online store.
---
Carty WordPress Theme for WooCommerce
Carty is a Retina ready, responsive WooCommerce theme with dummy content, a product comparison and wishlist feature too.  That makes it one of the best WooCommerce themes we've found, pretty cool, huh?  Carty is multi-purpose too, so if you want a blog and portfolio included, it's pretty easy to set that up as well.  Reviews, business, magazine.  You name it, Carty provides. Carty provides retina ready designs in a fully responsive package, three predefined skins as well as three distinct blog styles, a wishlist feature, the ability to compare products, supports 600+ Google fonts, allows for featured products on the home page carousel and more.  There's also a sophisticated help file included to get you set up with this premium WooCommerce template.
---
Leka Online WooCommerce Shop Theme
Leka is an inspired eCommerce theme, WooCommerce compatible, and built with a style that lends itself to a lot of different possibilities, like fashion, watch sellers, jewelry, shoes, even high tech gadgets.  Leka is based off the 'foundation' framework, and it's design is pixel perfect, responsive and supports dynamic mega-menus, Slider Revolution, widgets for products and content modules.  This powerful theme also has a great and feature-rich theme options panel, and with Leka, you'll be customizing any aspect of the theme's design with ease.  Footer, fonts and typography, navigation and menus…you get the idea.  Whether you're starting a boutique website for a brick and mortar store, or you're going to sell products purely online, WooCommerce is a fine solution to get your sales ramped up quickly, with secure online transactions.
---
Nudie Simple WooCommerce Themes
Nudie is offered exclusively through Creative Market, designed by professionals for professionals, with a clean and simple design, Nudie is made for modern looking websites that need high-class functionality, but want to avoid over the top presentations.  This theme is responsive with a 'mobile first' design, which means that this Bootstrap beauty is fantastic on all sorts of devices, no matter what resolution, from handhelds to desktops and everything between.  Use one or two column layouts to get the look you want and the minimal theme options means you'll be able to get a great look without struggling to find the perfect option out of thousands.  Nudie works seamlessly with WooCommerce theme style and bbPress, to start building an online presence in a heartbeat.  Nudie considers itself a mobile first theme, so if a lot of your sales come from tablets and smart phones, Nudie could be a great solution for you.
---
Harvest Wide Screen WooCommerce Shop Template
Harvest is a very nice looking new theme with a wide variety of design variations for you to choose from.  They have demos to show what Harvest might look like as a home decor store, a medical device seller, a website for tools, a furniture store, kitchen gadget store, electronics seller, there's a clean looking minimal design, fashion or jewelry shop (pictured above), a modern art store and a parallax layout eCommerce store.  Powered by the free and awesome WooCommerce plugin, Harvest captures the imagination with great layouts, modern typography and simple, clear navigation.  Sell food products, jewelry, fashion and more, each demo has a different design and color scheme and you can always change up those design elements to suit your taste in the handy Admin options panel.  This fully responsive theme uses the latest CSS3 and HTML5 code too, so it loads rapidly and looks right every time.
---
Buler Video and WooCommerce Theme
Buler is a lovely, highly responsive WooCommerce theme that's sold at a very brisk pace on ThemeForest and racked up well over a 4 star rating, so it's customers think very highly of it.  Buler's design is flat, clean and modern, but it's flexible enough to pull off any kind of look you want to give it.  Clean and fresh.  Bold and lovely.  Unique and premium drag and drop layout too.  Buler?  Buler?  Anyone?  Sorry. Buler isn't a high school kid skipping class, it's a powerful WooCommerce theme for WordPress.  Get bold, get eCommerce, get Buler.  The Aqua page builder makes it a simple task to create the layout you need too.  Oh, nearly forgot, Buler comes complete with PSD files and has a huge selection of tools to customize the look and feel of your website.
---
Mana WordPress WooCommerce Grid Theme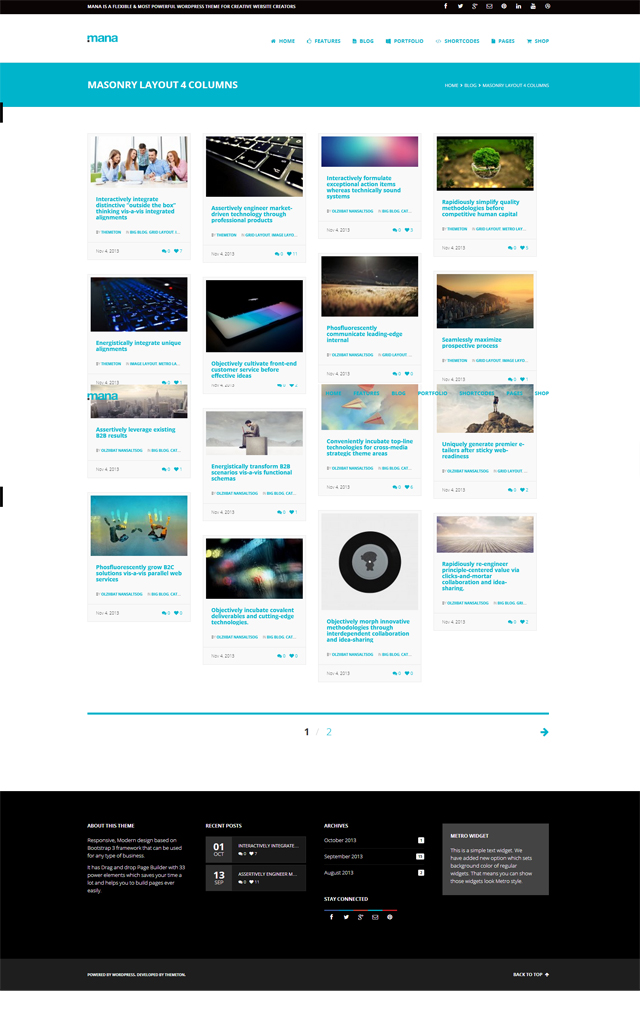 Mana is a complete WooCommerce theme solution to build a really awesome website.  Mana is flexible, it's powerful and if you build a lot of websites, it makes it easy to create each one with it's own personal look, style and feel.  That's important when you want to stand out from the competition.  Page options, page builder and page customizers make it easy to do just that.  Everything is customizable!  All of the header, page and menu elements (as well as short codes) have various color, style and layout choices to convert the design to whatever you need it to be.  You can select colors, fonds and other design elements yourself, or use one of the pre-made skins that are professionally designed to look great together.  The theme options, page builder and page optimizer make sure your pages and posts themselves are just as flexible.
Barberry WordPress Fashion Store WooCommerce Theme
With the Barberry theme, straightforward doesn't have to mean boring. Product galleries, marketing collateral, and whatever you want to visually communicate are extremely easy to highlight and feature with the minimal colors and no-nonsense design not normally present in WordPress WooCommerce themes. The look is modern, geometric, and very urban, easily setting the mood for shopping.
While there are as many features as there are stars in the sky, one of the most popular is the thumbnail animation. When a cursor lands and then rests on an image, the thumbnail can show up to three product photos, making browsing not only easy but so tempting.
The slider can also feature customizable captions, so it transcends its decorative functions and performs as the site's most prominent marketing avenue.
The layout is customizable (by page, even), but will always retain its most sellable draw—a look that highlights function and is meant to convert. Easy navigation and an intuitive interface seem to have been the winners over fluff and animation, if there ever was a deliberation during the design and development process.
This is one of the few WordPress WooCommerce themes out there that can carry heavy text without losing aesthetic appeal. Barberry seems to have been built to tie elements together, no matter how diverse the material.
MinShop Minimal WooCommerce Theme
ShopDock may have set a high mark for Themify.me, but Minshop surpasses it in a lot of ways.  This is the second WooCommerce release from Themify and it's got a bunch of features like AJAX loading, custom post slider, RSS feed and search form, header widgets so you can display ads and of course it's responsive too.  Give Minshop a spin and let us know how it works?  We think an incredibly elegant WordPress WooCommerce theme with cool features like the Ajax shopping cart and a minimal design that works for just about any sort of shop, is a great place to start when you're building your online business or adding an online component to a brick and mortar store.  I love this WooCommerce theme!
Room 09 Simple, Fashionable WooCommerce Themes
Great WordPress WooCommerce themes boast of highly customizable interface, one that can serve several purposes aside from the standard e-commerce shop, and Room 09 meets that standard. Turn off the cart, and it becomes a portfolio or an attractive blog that can support graphics without cluttering the layout. There's even support for a testimonials page!
The default font selections are sleek and easily decipherable whether on a mobile screen or a full-sized display. The theme tends to favor medium-toned blocks of color accented by much lighter colored blocks to support texts and other objects. Even the black and white skin tends to keep its modern/romantic feel with the menu bar kept just barely opaque.
Unlike some WordPress WooCommerce themes, Room 09's structure itself is meant to highlight images, so displaying products is simple and easy. The results look effortless, clean, and expensive, whether products float in plain white backgrounds or colors slightly lighter or darker than the site background. (Pro-tip: Use colors in the same palette as the theme, as the thin fonts rely heavily on the relationships of tone and contrast.)
As for functionality, the theme is packed with features that make a site so easy to navigate. Perhaps most notable is the FAQ filtering, which is sure to make any text-heavy page much easier to digest.
---
ePix WordPress Photography WooCommerce Themes
ePix will exhibit your gorgeous content, and offer you a competitive edge. You can install it yourself, with no need to hire a web development business. With this theme, even a kid can create a money-making site. You're guaranteed flexibility and excellent quality, thanks to the massive feature roll. If you need to expand your abilities, you may also include 3rd party addons. A site that aims for commercial success must consistently include multilingual support.  A properly created portfolio web page should always respect the high standards of its clients.   It's incredibly important.  If you want to create an eye-catching portfolio, ePix may be the most suitable choice, particularly if you want to add WooCommerce functionality to sell products online. ePix is also likely to improve and enrich the websites of ambitious photographers, whether you're a news photographer, a wedding portrait photographer or you create artistic photos and sell the prints online.
Artful is a theme that allows you to buy and sell products, whether tangible or digital products, since it integrates of the free and popular WooCommerce plugin. Site owners are now able to establish private online shops in order to increase their profit margin with just a few simple clicks.  There's a wealth of information provided to help get you started and the features on this theme for those wishing to showcase their photographs are simply stunning. This theme was created by an elite, reputable author exclusively for Themeforest, and it was well received by the community too, thanks to the abundant features and attractive styling.
Demo Purchase Get Hosting
---
JustShop WordPress Bakery WooCommerce Shop
Justshop is a sweet treat of a WooCommerce theme.  If you have a brick and mortar cake shop, cafe, bakery, cupcake shop (are there any left) or you want to sell your products online, Justshop is a great choice.  You'll need a WooCommerce theme that is flexible and powerful.  That's JustShop.  A fun and functional WordPress WooCommerce theme like Just Shop, may be right for you, if you're looking for a template with some of the best features and tools that help newcomers get their store online fast.  Those features include Visual Composer, a drag and drop page builder that helps you make a website that anyone can find value in.  This responsive theme also offers boxed and full width layouts for more flexibility.
This WordPress theme enables you to craft any kind of site you would like, supplying the options you want, with the layout you wish, all thanks to the highly effective drag and drop page builder plugin called Visual Composer. The Visual Composer plugin supports leading third party plugins such as Essential Grid, Ninja or Gravity Forms, Layer or Revolution Sliders, Contact Form 7 and WooCommerce. People love the reasonable price, the incredible helpful features, the ability to create any variety of highly functional site, the ease of use and the fact that it's compatible with everything. Check out the 40+ content elements, huge template library, responsive design, easy to use front end editor and detailed documentation, and tons more.
---
Blaszok WooCommerce Ready WordPress Themes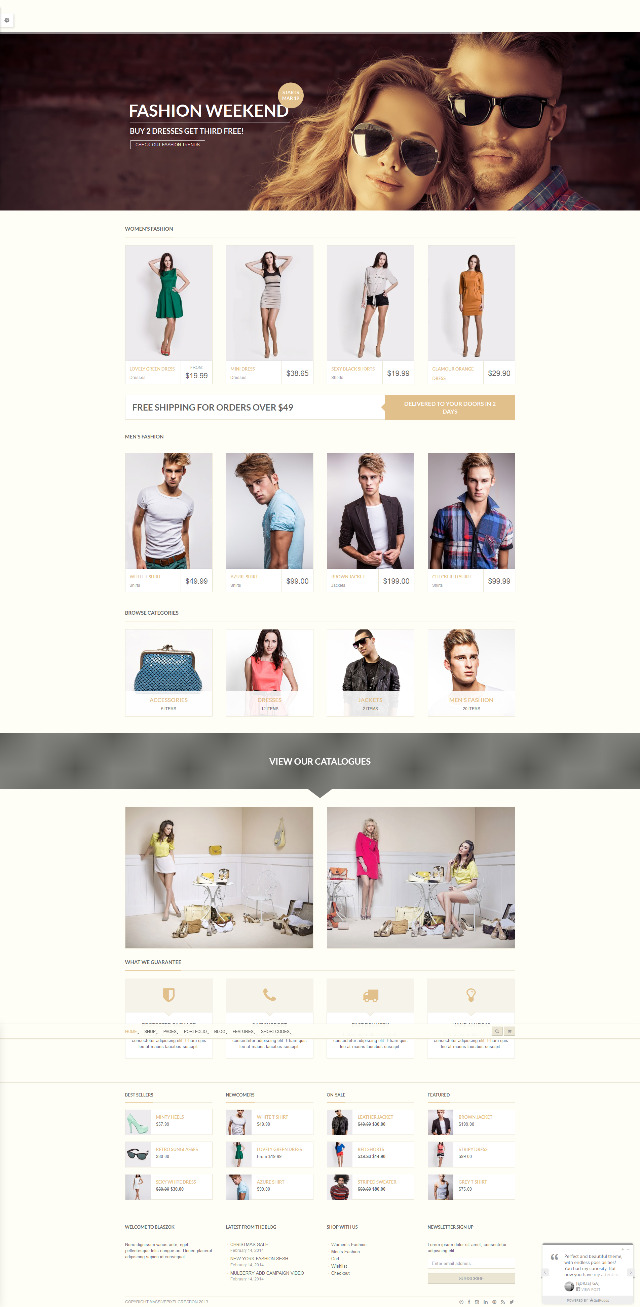 Shop-ready and packed with features, Blaszok is a well-rounded addition to a library of WordPress WooCommerce themes. With twenty-five demos to choose from, it's hard to fail at finding one that works for whatever purpose.
There's a grid interface for displaying visual art (photographs, illustrations, etc.). It has more than one layout that features a screen-utilizing background for those who want to evoke a feeling of magnificence with simplicity (a design paradox, yes). Features another image-heavy spread that's popular with e-magazines for its use of headlines and the simple technique of drawing the eye to featured articles with bigger pictures up top. Furthermore, there are traditional layouts with full-width banners and texts strategically placed for maximum predictability.
Specifically marketed as "the most advanced shopping theme," WordPress WooCommerce themes such as Blaszok boasts of over a hundred features and improvements that their users requested. Thus, ensuring that the needs of e-commerce dependents are met. It's easy to categorize the inventory in the back-end, but more importantly, customers will find it easy to navigate those categories as well.
Frames for images are designed to serve the hierarchy of attention—bigger images go to the cover, and only when a viewer is hooked is more text introduced. With smooth animation and video-ready banners, the Blaszok theme makes a website difficult to ignore.
---
Fajar WooCommerce eCommerce Themes
Fajar is where it's at. I adore the user friendly, completely responsive design, making your site look great on even the smallest of screen sizes, regardless of what browser your readers choose to employ.  Firefox, Chrome, Explored, you name it.  This visually strong template is WooCommerce friendly, so you could create and change up your internet market's look and features, making a truly unique portal online, all in just minutes. Revolution Slider is a remarkable value add also, with lots of support, solidly coded files, trendy and fun transitions that are smooth as they can be. Predefined skins allow it to be easy to start on the path to crafting an engaging web site with incredible user participation, experience and truly major impact. What makes Fajar a solid choice for constructing a fun WordPress web site? Powerful features, freedom for beginners and pros alike to create a dynamic and engaging content, fantastic support, attractive and smooth CSS3 animations, lifetime free updates and incredibly smooth scrolling, plus header and footer styles that can be customized to fit your brand, plenty of typography choices and more. The demo websites contained are a genuinely nice touch, showing you the unbelievable range of styles and looks you can make with Fajar. Fajar is incredibly SEO friendly too, raise your traffic potential to the maximum with fast load times, which is super important for a WooCommerce website.  An intricately detailed instruction manual is also included, so you can rest assured that you will not find it too complicated to get started down the course of making an astonishing site, no matter what your business is.
---
Eden Simple, eCommerce, WooCommerce Shop
Eden is awesome!  WooCommerce ready themes provide a great way to show-off goods and services online.  No matter what what kind goods you would like to show off, WooCommerce is a mighty way to sell your products with no muss and no fuss!  If you'd like to have a brand new Woo Commerce theme, this particular WooCommerce theme could be the right one for you.  This one is totally fast to set up a new online store and it's very, very cheap.  It's obvious that your valued customers will have a great time during their time on your web page, because this eCommerce theme has boss  support and it's amazingly well coded and designed.  If you want a WordPress WooCommerce theme with a lot under the hood this is an ideal choice.
Kaching WordPress eCommerce Shop Theme

Kaching is the sound a cash register used to make back when there were cash registers.  That's your lesson for the day kids.  Now, we don't have cash registers, we have WooCommerce based online retailers.  Now, Kaching is the sound when you find a great looking WooCommerce theme for WordPress and it's got all the great features you've been looking for in one spot.  If you're looking for an alluring WordPress WooCommerce theme, take another look at Kaching.   The sliders, carousels and accordions have been extensively tested on every browser and every device, so they function properly.  Your products will look fantastic no matter where your users come from.  SEO plugins like WordPress SEO by Yoast also work perfectly with this theme, so you'll be attracting new users constantly.
Mommerce WordPres WooCommerce MommyBlog
Mill may be the best solution if you want to sell products aimed toward mothers (the theme used to be called Mommerce by the way).  It's lovely in design and powerful in functionality, with the features you need to run an successful store online at your fingertips.  Just like the best WordPress WooCommerce themes should be, it's easy enough to get started with right away, but offers enough features that will make it a powerful theme for the future as you grow your business.  You know what we think?  We think a well made WordPress WooCommerce theme with tons of options is a must have.  Mill has several skins it comes with, to give your site a new look fast, it's responsive, offers three blog layout options and six post format styles too.
Agora WordPress WooCommerce Blog Theme

Don't be fooled by the simple appearance, Agora is a powerhouse WordPress WooCommerce theme with a lot of features to make selling products a snap.  I like the shoe store they have in the demo and I think it looks really good, but it'd work great for nearly any kind of store.   The sky, and your imagination, are the limit, since you have access to a custom widget based homepage to create a unique look for your website, WooCommerce support, more widgets, SEO optimization, infinite color combos and the confidence in CSSIgniter's ability to deliver incredible support when needed.
Shopster WordPress WooCommerce Themes
Shopster is a retina enabled, WooCommerce responsive theme with a simple looking design that hides the heart of a full service online WooCommerce shop.  Multiple page templates make it a breeze to get the look and feel you want from your website.  If you're looking for a simple, but functional WordPress WooCommerce theme, this is a great bargain.  We think a well made WordPress WooCommerce theme with good features is a picture perfect option for your site.
Simen WordPress WooCommerce Blog Theme
This modern, easy to use, beautiful, functional and efficient WordPress theme lets you expand your company, communicate with potential customers, supervise delivery and your stock, promote existing items and advertise new products and more. This WordPress premium WooCommerce theme is packed with creative features, brilliant, well made, flexible and user friendly, it's purely responsive, perfectly coded and flexible, perfect for bicycle dealers, marketing firms, smartphone merchants, television stores or brick and mortar shops. A beautiful WooCommerce WordPress theme can help you create a really good first impression. Simple, clean design doesn't have to be dull, and Simen proves it. It is built around Visual Composer, for maximum adaptability in the arrangement of your website's posts and pages. Simen is WPML compatible, which means you can easily translate your website to multiple languages, which is very handy if you're selling products to multiple countries. That's really a must when competing against other online sellers. Speaking of features, this theme has oodles of brilliant attributes. There's wishlists, you can compare multiple products, the Ajax shopping cart is fantastic and the quick product view makes it easy to shop with a purpose. Best of all, a capable and mighty admin panel, so you can alter settings and manage your products efficiently.
If you want a terrific drag and drop page builder theme, you should look at a Visual Composer theme, the most widely user plugin for creating a drag and drop website for WordPress, since it offers you such a wide selection of functions, it's flexible enough to use on any kind of web site. The Visual Composer plugin supports the major premium plugins like Essential Grid, WooCommerce, sliders like Layer or Revolution Sliders, both Gravity Forms or Ninja Forms and Contact Form 7. You'll really love the high levels of compatibility, the user friendly interface, the reasonable price, the ability to craft any kind of highly functional site and the incredible helpful features. Check out the wide ranging template library, incredible support, responsive, professional design, strong front end editor and 40+ content elements, and tons more.
---
Bonanza WordPress Multi-Purpose WooCommerce Theme
Bonanza is a multi-purpose WordPress WooCommerce theme that allows you to build a personal blog and portfolio, an online eCommerce retail store, a corporate informational page or any combination. Maybe even all of those things?  Why not, Bonanza just wants to make you happy.  Bonanza has all the presets and layout options you need to do whatever you want.  This fresh, user friendly, flexible, attractive and well made WooCommerce theme helps you build your online business, communicate with potential customers, supervise delivery and inventory, sell existing items and market fresh items and a lot more. This incredible WooCommerce theme is user-friendly, reliable, filled with creative features, adaptable and lovely, it's immaculately coded, purely responsive and adaptable, great for either small or large businesses, sports equipment vendors, promotion firms, perfume shops or electronics stores. You can deliver a big first impression with a beautiful WooCommerce theme.  If a dazzling WordPress WooCommerce theme with superb features is what you need, that's Bonanza.  A dozen page templates, three attractive portfolio layouts, multiple sliders, infinite color options and custom homepage layouts make Bonanza a great pick for you.
IDStore WordPres WooCommerce Theme

IDStore is a stylish and elegant looking WordPress eCommerce WooCommerce theme.  IDStore is multipurpose too, so it'll do just about anything you ask it to, from blog and portfolio to marketing page to eCommerce store and more.  IDStore always looks good though, with responsive design and a ton of other features to make it stand apart.  We think gorgeous responsive multi-purpose WordPress wooCommerce theme with the type of components offered up by IDStore is a wonderful way to go.
---
Aurum Simple WooCommerce Fashion Store Theme
If you have ever wanted to sell products online, the Aurum WordPress theme offers a unique e-commerce solution for any type of merchandise whether it is physical or digital. It was built with sales in mind and every aspect of it can help you make more of them and increase your profits and success. Aurum works well for everything from high-tech gadget shops to fashion boutiques, bookstores to pet supply stores. Its responsive styling allows shoppers to access their favorite products and check out at home or on the run with a mobile device. Website owners with no development knowledge can launch their site with a simple click of a button if they choose one of the prebuilt page demos packaged with this theme.
Customizing the look and feel of a site built with Aurum does not take extensive knowledge or experience, however. The powerful drag and drop builder plug-in called Visual Composer allows you to easily move different elements into place for every page. Since photos are an important part of an online store, this e-commerce solution comes packaged with both Revolution Slider and the Layer Slider for impressive views. Other inclusions are Products Carousel, Touch Carousel, text, image and category banners, a massive icon collection, the YITH wish list plug-in, Ajax shopping cart technology, catalog pages and various hover effects for additional products use. All of these features and more can be accessed and implemented with simple copy and paste shortcodes that make the Aurum WordPress theme simple to use for both admins and online shoppers.
---
YourStore WordPress WooCommerce Clothing Store Theme
Color meets function, and then rendezvous with simplicity in this theme. With over fourteen pre-made layouts, the theme can serve a wide variety of commercial categories — fashion, food, crafts, etc. Whether you want to feature categories in the home page or showcase a unique and beautiful inventory, it is easier to "bend" your website to your will, even with minimal coding or design knowledge.
By default, the background is a plain white and does a good job of highlighting texts and images based on your specifications. Discounts and product photos float quite easily in what could otherwise be a deluge of SKU's and visual information, a fault other WordPress WooCommerce themes haven't quite overcome.
The frames and grids are built to work whether you want your visual information in the center, in the sidebar, or filling up most of the screen.
If one were to determine the theme's biggest strength, it would be its ability to communicate with neatly arranged images. Categories are highlighted and serve as the skeleton of the site. The theme is naturally supportive of color, but only to the extent that it will accentuate, not clutter.
If you're looking for WordPress WooCommerce themes that communicate aesthetically, and, as much as possible on the homepage, YourStore is a fantastic option to have.
---
Jevelin Premium WordPress WooCommerce Theme
When it comes to running an online business, you'll need a great website and this theme is delightfully feminine, great for a site catering to women's products.  I think WordPress is the right choice when selecting a CMS to help make the process as easy and painless as possible.  Jevelin is a new WooCommerce theme that looks like a real winner.  We love the variety of transitions and animations you can add to create some style, the powerful variety of footer and header styles to.  Not to mention around forty shortcodes that you can use to add many features that will help you give a wonderful user experience for your readers.  The stunning parallax feature is a really nice touch too.
If you're looking for a wooCommerce ready multi-purpose WordPress template that can act as an eCommerce solution while also providing for blogging and portfolio display, why not choose Jevelin?
Jevelin was built specifically to provide a wonderful user experience for both webmaster and end user, the front end is attactive and the back end is intuitive and well designed so you'll find it easy to customize, even if you're not a WordPress expert.  The design simply makes for an efficient and trouble-free blogging experience, making it ideal for showing off content from nearly any sort of category, niche or interest you may have.  The design is modern and balanced, well suited for businesses, creative pursuits or travel blogging.  Whatever you're into, this theme can help sell it to your readers.  Jevelin is an full-featured and beautiful, user friendly and easy to use, responsive blogging theme that will absolutely be one of the best sellers in 2017. Why?  Well, thanks in large part to it's bevy of features that really lend it to a wide variety of uses, from blogs to webshops, magazine and creative portfolio sites.  The sky's the limit with Jevelin.
---
54+ Of The Best WordPress Magazine Themes
51+ Of The Best WordPress WooCommerce Themes
23+ Of The Best WordPress Personal Blog Themes
44+ Of The Best WordPress One Page Themes