35+ Of The Best WordPress Restaurant Themes
The restaurant business is a tough racket, so the absolute last thing you want to do during the process of starting up a new cafe, diner, restaurant, BBQ joint, coffee shop, dessert shop or any other sort of food service company, is to spend weeks, maybe even months, crafting a website that fits with the look and feel of what you want in a website.  Pre-made WordPress restaurant themes give you the design and functionality you're looking for in a website.  These restaurant WordPress themes make it easy to get an online presence up and running without all that extra coding, which lets you give your diners the very best experience you can.  We think you'll love this collection of themes.
The Core WordPress Gourmet Restaurant Theme
Themefuse has created a fantastic theme and it's called 'The Core'.  Gourmet, pictured above, is the restaurant version of this theme and it's perfectly adapted to give your customers a great first impression when they take a look at your restaurant on the web.  This theme allows for drag and drop flexibility, letting you move page elements anywhere you'd like, without having to hack into any code.  Gourmet is flexible in terms of the design elements too, you can easily change the fonts and colors to fit your restaurant, upload your logo, create a menu page, a map to the restaurant and much more.  This scrumptious WordPress theme is a perfect choice for a first class and wonderfully practical web site for your restaurant, regardless of whether it's a coffee houses, noodle shops, fast food, fine dining or fast casual, regional or ethnic foods such as Mexican or Vietnamese or hot dog stands.
Royalty Shop WordPress Pancake Shop Theme
Royalty Shop is a clean WordPress theme for restaurants, a splendid and functional work that would be ideal for a steak house, Italian restaurant, BBQ joint, cafe, cake shop or really any sort of restaurant establishment.  Royalty Shop is completely responsive, delivering to your target market an ideal reading and learning experience.  No matter what device or gadget they choose to access your site, it's going to look amazing. Royalty Shop was constructed with secure and valid HTML5 and CSS3 coding technology, the very newest stuff around, and it combines to be perfectly aligned with most recent web requirements.  This theme's well structured look is thanks in large part to the effective framework it's built around: Bootstrap.  Simple and safe, Bootstrap makes sure the site looks and behaves exactly as you envision.  Royalty Shop also supports the hundreds of fonts that Google has, to offer you a broad choice of font and typography alternatives. It consists of seven custom-made widgets and effective shortcodes to help you create function pages like a handy Slider header, a bold and informative events page and events detail page, to call out additional information like special banquets, events like Valentine's day and more.  There's a masonry grid style gallery available, four menu grid pages, the product detail page and finally a blog site layout. The theme likewise enables you to add a "Make a Reservation" page to encourage people to make reservation and purchase your product. It is likewise fully incorporated with The Events Calendar plugin to assist you create, arrange and promote your occasion with ease, which is incredibly important.
Royalty Shop is brimming with other important style features that will make your restaurant, cake shop or whatever it is that you have…standout from its rivals.  What are they you ask?  How about awesome CSS3 animations, jQuery isotope, Lightbox, smooth scroll and more.  This theme even supports Contact Form  7  and gives you lovely menu icons. This theme makes it possible to have outstanding SEO with fast loading pages and great code.  All major browsers have been tested and work great with this theme, so you can rest easy knowing all of your visitors will have the same, great experience. WooCommerce allows you to accept payments via BACS, Paypal and more, which provides great flexibility and WooCommerce extensions can add even more functionality like affiliates, built in shipping rate checkers, dynamic pricing and more.
---
The Butcher
This mouth watering WordPress theme is a perfect solution for a good looking and really useful web site for your establishment, whether it's a steak house or BBQ joint, regional or ethnic foods such as Russian or perhaps Vietnamese, tea shops, pubs or fine dining, fast food or fast casual.  To generate the very best, most fulfilling reader experience around, you will need to pick a solid, well-designed WordPress blog theme.  This restaurant template is very easy to use with plenty of awesome help and documentation, incredibly beautiful, stylish and modern, one that gives countless useful, popular functions, incredibly multi-purpose so you can use it on any kind of website and professionally designed and responsive so it looks perfect on any kind of screen.
If you need a fantastic drag and drop WordPress theme, you should think about using Visual Composer, the top plugin for creating a drag and drop website for the WordPress platform, because it gives you such an array of options, it's functional enough to work for any kind of website, from steak house to fast food, catering companies to dining halls.  You'll find the right style and features for everyone. This adaptable, well made, easy to use, trendy and stunning WooCommerce ready theme lets you promote old products, develop your small business, supervise delivery and inventory, market new products and contact shoppers and much more.
This simple to operate, modern, well made, lovely and very flexible WooCommerce WordPress theme helps you to advertise existing products, supervise shipping and inventory, launch new items, communicate with potential customers and expand your company and a lot more.
---
Resca Full Service Restaurant Theme
Resca is a premium cafe, coffee shop and restaurant theme from one of ThemeForest's elite theme makers, ThimPress.  This restaurant theme does everything you want it to, from making a wonderful first impression to allowing your customers to make a reservation online, which saves you time and money, by letting them do the work for you.  Your customers can self-populate the contact form from a desktop, laptop or mobile device.  Booking a table has never been easier.  What's even better, you can use WooCommerce to take orders online, which is pretty handy.  Resca has a parallax background image option to help present your products in a professional and fun way.  We love the menu design on this theme too, which allows you to show pictures of your delicious dishes along with a detailed description and clearly displayed prices for each item.
Sunny Jar Fresh Bistro WordPress Theme
Sunny Jar is a great restaurant theme aimed at restaurants and cafes that sell smoothies and other all natural, healthy ingredients, delivering a delightful and tasty result on your webpage and in the kitchen.  Sunny Jar could work for a bakery, a pastry shop or coffee shop, thanks to it's trendy style and responsive design.  Sunny Jar is WooCommerce ready, offers a lot of features like Essential Grid, Revolution Slider, Visual Composer, PO Composer and a lot more.  That WooCommerce plugin is a real powerhouse, allowing you to extend it's functionality with a wide variety of add-ons that help make it the very best eCommerce shopping cart for WordPress.  The design is subtle, smooth and looks great on any platform or browser, because it's both responsive and Retina ready.  Sunny Jar is simple and straightforward to install and update, the day to day management of your website will be relatively easy to deal with, letting you spend more time creating great new recipes and delivering the best customer experience you can to all of your customers and to your online readers as well.
FlyCoffee WordPress Bakery and Coffee Shop Theme
Coffee culture seems to be growing every day.  In some places, local coffee shops are popping up on every corner, each brewing up their own blends of the dark elixir.  Now, if you're looking to start up a coffee shop, there's a brand new theme called FlyCoffee that's built to be a perfect website for coffee shops, roasters, cafes, bistros, bars and restaurants.  FlyCoffee is professionally created, offering a drag and drop page builder, which makes it simple to create a new look for your site if you need to.  There's an optional reservation system, custom sidebars and more to bring out amazing reactions from all your visitor.  There's also a WooCommerce powered shopping page so you can sell products online fast.  (It kind of bugs me that they misspelled dessert though)
---
Elixir
Elixir is a wonderful way to create a website for your restaurant, create your menu with ease, promote products with lovely galleries and keep your customers up to date with news and events.  This restaurant template is extremely versatile so that you can utilize it on virtually any web site, professionally designed and responsive so that it looks great on any screen, user friendly with a lot of fantastic documentation, one that delivers a lot of helpful, popular functions and made with a graceful, beautiful style.  A wonderful looking WordPress restaurant theme for noodle shops, fine dining, fast food or fast casual, taco stands, cafes or cultural or ethnic foods like sushi or perhaps Ethiopian are a good way to let your business differentiate themselves from the competition.  In the event you don't have the time or know-how necessary to make and sustain your own website, you really should choose a high quality restaurant theme to help you save you precious time.
If you want to use an excellent WordPress plugin to design a beautiful website, you should look at the functional, easy to use visual page builder WordPress plugin, which is called Visual Composer. Visual Composer works perfectly with the leading third party plugins like both Gravity and Ninja Forms, Revolution or Layer Sliders, Contact Form 7, Essential Grid and WooCommerce. That helps make this amazing multi-purpose theme super flexible. What I love is the variety of powerful features, that it's very user friendly, the high levels of compatibility, the versatility to craft any variety of highly functional site and the low cost. Check out the wide variety of content elements, detailed documentation, popular front end editor, purely responsive design and wide ranging template library, and tons more.
---
Piquant WordPress Steak House Theme
This is Piquant, a delicious new WordPress restaurant theme with six main variations to choose from.  The original recipe home page, a heath food inspired layout, Bar & Grill, BBQ (my favorite) a full screen home page and a general restaurant.  Don't worry though, this theme has enough options that this will work for just about any kind of restaurant, cafe, bar or catering company around.   Piquant has a variety of menu styles, you can even give away recipes if you want to do that, it's compatible with OpenTable, WooCommerce and all the major social networks.  From bar and grills, cultural or ethnic foods like Tex Mex or Indian, fast casual, fine dining or fast food, cafeterias or pizza parlors can all benefit from an attractive and well crafted restaurant WordPress theme.
The Flavour WordPress Patisserie Theme
A delightfully crisp and clean layout helps make The Flavour one of the very best WordPress themes for a restaurant, cafe, catering business, deli, food truck, food cart or any other kind of food service industry website.  The Flavour is ultimately customizable, responsive and retina ready, so it will look great on any device or on a traditional desktop display.  A gorgeous WordPress restaurant theme for regional or ethnic foods such as Norwegian or perhaps Polish, fast food, fine dining or fast casual, noodle shops, cafeterias or pizza parlors are a good way to have your culinary business stand out from the others out there.
Café Cultura Multi Purpose Restaurant Theme
Restaurant Simple WordPress Hotel Theme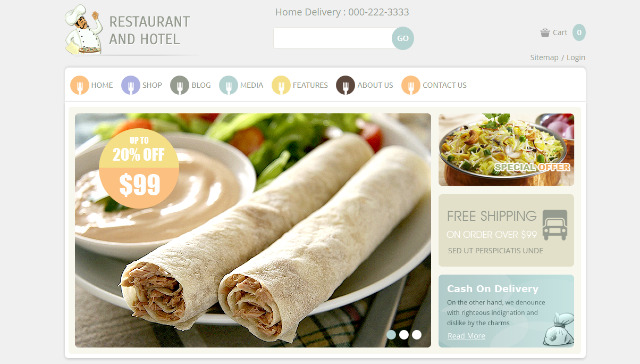 Restaurant WP eCommerce Theme was designed with restaurants, food service, products and hotel stores specifically in mind. This theme has some pretty cool color combos, responsive design, supports rich snippets, is tightly crafted for great SEO optimization, it's compatible with all browsers and multiple languages are supported.  Ever one of the many pages are perfectly customized and that gives this theme a clean professional look that will help your restaurant stand out from the competitors.
Barnelli WordPress Modern Restaurant Theme
Visiting a restaurant is an experience, so visiting your website should be too.  Barnelli is a minimal and highly responsive WordPress theme, designed for all you restaurateurs out there. This is not just a generic "theme" that can fit into all businesses
CoPro WordPress American Restaurant Theme
When it comes to customization options, the CoPro WordPress theme delivers an impressive collection of possibilities, including a fantastic restaurant WordPress theme option. Its modern and stylish design combines with high-tech capabilities and pristine coding to offer a fully responsive website that loads fast and attracts attention. This WP theme offers an elegant framework for an online presence in any industry or niche. Building your unique platform is simple with over 300 premade page templates ready to load with a simple click. You can choose from unlimited sidebar, header and footer options as well. Before you even get to the content-adding stage, CoPro already impresses with its structural flexibility.
Packaged with the CoPro theme are a wealth of options that bring even more style to the finished project. Some of these include Mega Menus, Parallax scroll capabilities, nearly unlimited widget placement and more. Any site built with it will be fully responsive for viewing on all mobile and stationary computers due to this WP theme's use of current Bootstrap technology. Pages load quickly, display clearly and attract the attention of site visitors. Inherent search engine optimization capabilities even help your business or professional projects grow. Everything about the CoPro WordPress theme works together to help you succeed.
LemonChili Simple WordPress Bar and Bistro Theme
LemonChili is a dandy new premium and responsive WordPress theme with special features for clubs, events,restaurants, cafes, bars and more.  With Lemon Chili you can make an infinite number of food and drink menus as well as an upcoming events page, a staff page and a gallery page for all the cool images you want to show off to your potential customers.  From regional or ethnic foods like Norwegian or Cuban, fast food, fast casual or fine dining, diners, barbecue restaurants or hot dog stands can certainly make use of a suitably constructed, flavorful restaurant theme for WordPress, full of beneficial functions.
---
Berg WordPress Restaurant Themes
From food carts, fast casual, fast food or fine dining, cafes, cultural or ethnic foods like Italian or Greek or buffets will all make the most of a wonderful and feature filled WordPress restaurant theme.  This theme has all the bases covered, with a great food menu setup, optional reservations system, contact form, portfolio and gallery, blog and a lot more.  It's everything you need to run a restaurant.  You may need a powerful, beautiful restaurant theme that permits you to spend more energy operating your restaurant business and far less time laboring over your website.  That's Berg!  You'll want a theme that's professionally designed and responsive so it looks perfect on virtually any screen, one that offers many useful, popular options, easy to use with a lot of awesome help and documentation, perfectly crafted with a lovely layout and very adaptive so you can use it on any type of website.  That's Berg too!
Best of all, berg is Visual Composer compatible, to achieve true greatness in design and features.  This theme helps you to develop any kind of website you need, giving the attributes you need, with the design you need, all because of the highly effective Visual Composer drag and drop page builder. Visual Composer works with all the major third party plugins like Contact Form 7, Sliders like Revolution or Layer Sliders, popular forms plugins like Gravity Forms or Ninja Forms, WooCommerce and Essential Grid. All of that makes this amazing WordPress theme super flexible. You'll really enjoy the variety of time saving tools, the simplicity of the interfaces, the low cost, the overall flexibility to create any kind of website and that it's compatible with everything. Check out the responsive design, gigantic template library, well appointed front end editor, tons of content elements and detailed documentation, plus a whole lot more.
---
Wind Cake WordPress Cake Shop Theme
Wind Cake is a restaurant theme, built on just one page so you can get all the big info to your potential patrons quickly and without a lot of page building.   Wind Cake would probably be perfect for a dessert shop, a bakery, ice cream shop, coffee shop, cafe, gift shop and more.  A great WordPress theme is a cool and exceptionally easy to customize pick for all types of eating places, from diners, food carts, limited service, fast casual restaurants, regional or ethnic foods such as Tex Mex or perhaps Vietnamese or noodle shops.
Delicieux WordPress Bar & Grill Theme
Delicieux is a premium WordPress theme for restaurants, cafes, coffee shops or any other food and beverage service industry related websites.  Delicieux includes a fun, friendly design style and it's got everything you need to build a sweet looking restaurant website, quickly and easily.
Sushi WordPress Sushi Restaurant Theme
Sushi comes with features helps you in creating a flavorful and appealing food related website to your clients.  This premium theme design which has specifications best suited to fit in food industry businesses like caterers and more.
White Rock WordPress White Table Cloth Restaurant Theme
Show off your work with this easy-to-customize and fully featured WordPress Theme. When purchasing this theme, you will receive a detailed help file along with additional features like Unlimited Color Schemes and Responsive Layout.  This appetizing WordPress theme is an effective solution for an enjoyable and extremely efficient web page for your restaurant, no matter whether it's a hamburger stands, fast food, fine dining or fast casual, bar and grills, cafes or ethnic foods such as Thai or perhaps Pakistani.
Pluto WordPress Japanese Restaurant Theme
This appetizing looking WordPress theme is called Pluto, and it's just the right option for an enjoyable and remarkably practical web site for your venue, whether it's a tea shop, ethnic foods such as Thai or Polish, barbecue restaurants, fish and chip shops or fast casual, limited service restaurants like the Japanese Takoyaki shop pictured above.  No matter what, you'll love the ease of use with Pluto, the simple and clear menu placement, the contact information that's right there on the page so your potential customers don't have to hunt all over for the street address.  (Huge pet peeve of mine!)
Bistro WordPress Simple Bistro Theme
Bistro is the 'younger, sexier and smarter' version of the WordPress restaurant theme called Feast, the best-selling food theme on ThemeForest, according to the theme's authors Net-Labs. Features include a bookings app, an events calendar, specials management, a responsive layout and more.  From fast casual, limited service restaurants, fish and chip shops, gastropubs, ethnic foods such as Chinese or French or sandwich shops will absolutely take advantage of a competently built, tasty restaurant WordPress theme, packed with beneficial options.  The food menu is easily located, the address is prominent.  This one was built from the ground up as a perfect theme for restaurants.
---
Downtown Full Service Bistro Theme for WordPress
Whether you're a restaurateur, a chef, a bar owner, or simply a fan of food and cooking, you'll want something stylish, modern, organized, and responsive to serve as a home for your posts. Downtown is aptly named because it gives both your future diners and loyal customers a virtual place that they'd love to hang out in. Use the custom widgets, Google fonts, and shortcodes to make a website that fully represents you and your brand. Downtown was designed to make your texts and images look good across a broad range of gadgets and screen solutions. Connect with your followers. Don't just introduce the establishment. Instead, proudly reveal the faces behind the brand, the heart within the business. Use the social media integrated About page to share the rich history of your business. The Custom Posts feature allows you to display people's testimonials and to introduce your staff to the world.
Are you after profit or popularity? Downtown can help you achieve both. This theme enables you to easily categorize food items and recipes according to breakfast, lunch, dinner, or meat, vegetable, pasta, and more. If you prefer, all this can come complete with price information. Downtown also allows you to showcase your restaurant's promos, best-sellers, and the featured meal or recipe for the day. And if you own a business, you'll want clients to know where to find it. Downtown includes Google maps and social media integration. Make advance booking more convenient for future clients with Downtown's reservation form. The Contact Page is highly informative with an easy mailing system to show your future diners that their inquiries are welcome. The AJAX form lets your blog visitors send in their questions and feedback instantly without having to reload the page. Ultimately, Downtown is all about making your brand look fantastic and extremely accessible. All this helps to increase your site visits and consequently, your restaurant visits and your revenues.
---
Salt & Pepper Full Screen Restaurant Theme
Salt & Pepper is an exceptional WordPress theme for the non-average recipe blog. Whether you're a culinary specialist or just someone with a passion for cooking, this theme will help you share your recipes to fellow gastronomes. Among this theme's most notable features is its handy recipe filter which lets your subscribers view your recipes according to category. Salt & Pepper enables you to present ingredients lists and step-by-step instructions neatly to your followers. More than that, it allows you to add instructional images and videos with ease. Thanks to the one-click demo install, kickstarting your cooking site takes only a few seconds. This theme's design is fully responsive so the quality of your background, texts, photos, and videos all remain intact regardless of what device your subscribers are using. Moreover, the optimized load speed is more likely to lure in more followers.
Readers love following blogs when they are able to see the face behind the posts. This engenders trust and it's important especially if you're running a business. Salt & Pepper includes useful pages like Blog, Contact, and About and you can import all of them with minimal effort using the one-click technology. Running a restaurant? Salt & Pepper's Contact page comes with a Google map that will allow potential clients to spot your business's location with ease. The AJAX contact form encourages people to send their inquiries and reservations in a hassle-free way. Additionally, this theme utilizes the latest in WPML so non-English speakers can read your content in their own language. Plus, everyone knows that food and Instagram go hand in hand. This is why this theme is social media integrated. The easy share buttons help make sure that your recipes are able to reach foodies beyond WordPress. On top of it all, Salt & Pepper is SEO optimized so this means your website is guaranteed a good ranking on search engines.
---
Salt Kitchen WordPress Multi-Purpose Restaurant Theme
Salt Kitchen is a premium theme for retail/restaurant. It comes with very friendly and attaction design to help your customers navigate your site with ease. This is exactly restaurant website should be.  A great WordPress theme is a slick and extremely easy to customize selection for any types of dining places, from cultural or ethnic foods such as Portuguese or Greek, pubs, fast food, fast casual or fine dining, pizza parlors or coffeehouses.  Salt Kitchen makes it easy to get your social page links out there, the street address is featured front and center and the food menu also enjoys prominent placement.  Too many themes ignore these obvious, necessary features.
Sonex WordPress Theme For Dessert Chefs
Sonex is unique.  Sonex is powerful and elegant.  Sonex is a multipurpose theme that fits with your business perfectly.  It integrates a lot of powerful features that are perfect for a restaurant, so that's why we've added it into this collection, but there are multiple demo sites included that show the range of styles and features you can find in this outstanding multi-purpose WP theme.  Sonex is built around Visual Composer for a simple and easy way to create new and different layouts for all your pages and posts.  There are fifty pre-built pages and, obviously, there's no limits to how many more you can add on your own.  This theme is an eCommerce monster too, with WooCommerce support to build a fantastic web-store to go along with your restaurant.  Under construction page is also included, which is great if you want to get started building the site, but aren't quite ready to reveal it.  If you're swapping out your old website for a fresh new look, it's perfect for that.  The theme options panel is strong and has a wide variety of options to choose from to make the website look wonderful and truly unique.
Loom WordPress Fancy Restaurant Theme
Textile artists use a loom to weave together threads and make something that is greater than its parts. The Loom WordPress theme does the same for business or personal online platforms. Using sturdy Bootstrap 3 framework from Twitter, the customization capabilities are nearly endless. No matter what design you choose, any site visitor can view every element with ease on any size screen or monitor. This responsive theme adjusts everything for maximum usability and aesthetics. All the parts that go into building a website using the Loom theme integrate together beautifully no matter which you choose. It offers eight beautiful and unique header styles, highlighting capabilities and scrolling menus as well as several premium plug-ins such as the Revolution Slider that can help you create an even more stunning one-page website. There are more than 30 different content elements that can be positioned wherever you would like as well as unique logo support, various blog post templates, a Mail Chimp plug-in for easy email list integration and share buttons for the most popular social media sites. Everything can be put into place using the intuitive Ebor template builder. For a one-click super fast launch, you can also select one of the professionally designed demo pages packaged with the Loom WordPress theme.
Terramia WordPress Theme With Visual Menu
How can I set up a restaurant website for WordPress?  How about Terramia?  Running a restaurant is a difficult challenge, and that means you will definitely want a user friendly WordPress theme that permits you to devote more time running your restaurant and significantly less effort running your site.  This theme suitable for restaurant, food, cafe, business and portfolio sites.  If you've got a bar and grill or something a little more casual, the design elements can be swapped out to get any sort of look you want.  This tasty, yummy looking WordPress theme is a fantastic selection for a beautiful and wonderfully practical web page for your venue, no matter whether it's a coffeehouses, fast casual, fast food or fine dining, gastro pubs, ethnic foods such as Mexican or Greek or burger joints.
Black Riders Simple WordPress Cafe Them

Where are the best WP restaurant themes?  BlackRiders theme is completely a restaurant WordPress theme.  The theme is very easy to use and gives an amazing look to your website but also grab leads for your restaurant or catering business.  In case you don't possess the time or expertise required to generate and take care of your own personal web site, you may want to select a prime restaurant theme to try to help you save you effort and time.  From bar food, cafeterias, cultural or ethnic foods such as Norwegian or perhaps Greek, fish and chip shops or limited service, fast casual restaurants will all take full advantage of a good looking and feature filled restaurant theme for WordPress.
Healthy Chef WordPress Theme For Health Restaurants
Healthy Chef is ideal for a website dedicated to the restaurant. This theme allows to easily create a perspicuous menu and to present chef proposals.  Restaurant themes for coffeehouses, cultural or ethnic foods such as sushi or Cuban, hot dog stands, buffets or fast food, fast casual or fine dining are a good way to let your company really stand out from the competition.  Quite often it appears there is not enough hours in the day to run your restaurant, which is why it might be especially nice to purchase a premium theme that's already been made.
Innovation WordPress Restaurant Blog Theme
Here's a wonderful restaurant blogging theme called Innovation and it certainly lives up to it's name, it's a great way to share your recipes with others in a well made, great looking environment.  Innovation is an innovative and visually appealing and interesting, fabulously convenient to use and beautifully convenient, astonishingly diversified and colorful, cutting edge, imaginative and quality, Retina-ready and eagerly reactive WordPress multi-purpose weblog website theme. Innovation is a wonderful all-inclusive answer for web-masters from any experience and with or without prior html coding or web design expertise to easily and efficiently put together the most amazing, elegant, unbeatable customized blog web pages across truly all possible markets and niches, thanks to Innovation's amazingly wide-ranging assortment of over 230 home page demo web sites, ready to go at a moment's notice and very easily set up by way of a one click installation method that couldn't possibly be more straightforward.
Innovation definitely lets web owners to fashion trendy, miraculous and truly charming blog websites with a range of power-house features, for example a totally out of the box included ratings system that lets the customers give their contributions into your web blog in a highly effective, thoughtful manner while not having to code a single line yourself. With Innovation's WooCommerce functionality, you may start up your web blog as an outlet to sell your goods quick, among a lot more possibilities. Give a shot to this theme, we bet you'll like it.
Avada Best WordPress Restaurant Themes
Avada is definitely the most in-demand WordPress theme ever made, ideally suited for a restaurant website.  Look at the features.  Avada provides a flat-out incredible range of features that make it well suited for every site. Pick among the wonderful and valuable sliders, majestic and practical headers, many fascinating and put-together image layouts, add a function rich and effective eCommerce marketplace and other capabilities.  Restaurants, food service businesses, caterers…they'll all benefit from a theme like this one.  Chances are that's the reason Avada is extremely widely used, especially for restaurant websites.  How is this accomplished?  Well, with the Fusion Builder, you can produce any convenient and charming lay-out you can think of. Fusion Builder is much more than an online page builder, it's a robust design program to help create the most excellent web site you are able to.
This theme does every single thing exceedingly effectively and it's stunning and appealing too, since there are so many variations you may develop, blog post types, portfolio styles and other elements are also unbelievably modifiable. There are many opportunities and advantages that it's clear to see the reason why Avada is easily the most widely used WordPress theme.
With this amount of various opportunities to choose from, you may be seriously overwhelmed, yet Avada is ultimately effortless to get cracking on and the support and guidance via documentation is awesome which is nice to know if you're getting started with WordPress or website building in general.
Avada's awesome adaptability is really on display with the many demo sites included.  as a photograph portfolio, vintage retail outlet, website landing page, modern day retail store, gym, tech blog forum, house of worship, restaurant website, travel blog or fashion blog, creative advertising agency, law practice, hosting company, architecture firm, lodging and golf resort, life-style or almost every other practical, attractive type of website. That's a huge list that emphasizes the multiple wonderful strategies you may use Avada. Better still, you will find these demonstration sites are quickly and straightforwardly set up to ensure you get started off quickly. After that, it's a matter of building your own site's exact layout.
---
Vega Restaurant WordPress Themes
For restaurants, a properly constructed theme is crucial to online success.  Some restaurants skip this step, but it's incredibly important to select a theme that gets the job done and Vega has your covered in that department.  This one is a properly made, gorgeous, sleek and advanced Bootstrap built theme that will help you put together the web-site of your desires. This Bootstrap theme is impressive, it's been developed with all types of buyer in mind, from newbie to very experienced professional. With the newest Bootstrap code, this template is fantastic for weblogs and organizations of any variety, since this template is a very dynamic and pleasurable multipurpose template, ideal for everybody. In case you are inexperienced in the WordPress platform, you may use this theme to design a cool and lovely online business fast, since very nearly everything within this template may be edited, even by first time WP consumers. It does not make a difference what sort of articles you have got, from graphics to blog articles, goods or posts, this theme enables you to establish the best appearing design on any kind of device, since it really is entirely responsive too. There are a lot of other characteristics to help you construct readers and actually engage with them.
This site can be set up in a short time and there are so many plugins that one could use to supply groundbreaking features for your website. A superbly responsive theme is vital, which is the reason this elegant, adaptive website has been created to be totally responsive, in order that it appears fabulous on every device, no matter the size. You are able to rapidly generate your own creative design variations utilizing this well designed theme, as it's incredibly accommodating as well as powerful, skillfully built and designed in each and every way. This is an undeniably great Bootstrap theme that you ought to absolutely evaluate.
Cafeteria WordPress Dessert Bar Theme
Cafeteria is a really amazing restaurant and food blog theme.  When you don't possess the time or capabilities necessary to make and manage your own personal web site, you may want to select a premium restaurant theme to save you effort and time.  A great WordPress theme is a polished and tremendously easy to customize selection for any sorts of eateries, from regional or ethnic foods like Norwegian or Pakistani, fast casual, fast food or fine dining, coffeehouses, burger joints or gastro pubs.
Cooker WordPress Recipe Blog & Restaurant Theme

Cooker is great template excellent for restaurant, bar, pub or bistro. Clear code and perfectly organized in sets PSD files make everything clear and easy to find.  You can use it as a Blog; online store; to present your restaurant, pub or just to show your cooking skills to the world.  This delightful WordPress theme is an amazing solution for an attractive and wonderfully efficient web page for your venue, regardless of whether it's a hot dog stands, bar food, cafeterias, fine dining, fast food or fast casual or cultural or ethnic foods like Mexican or Polish.  To save energy and time, you might like to pick a WordPress theme that is already been made, with all the bells and whistles to help save you energy and time, to help you spend more time operating your restaurant.
The Restaurant WordPress Theme
This WordPress theme is a slick and highly customizable theme for restaurants and anything alike. Change colors with a colorpicker, simply switch the layout and add your own sliding menu card.  At times it seems like that there isn't enough hours in the day to grow business for your food service business, which is the reason it may be advisable to pick a premium template that has already been perfected.  For a wonderful and well designed option for establishing a delicious restaurant website, one that's wonderfully made for coffeehouses, gastropubs, fish and chip shops, fast casual, fast food or fine dining or ethnic foods like Hungarian or perhaps Vietnamese is definitely an effective pick.
Forked WordPress Specialist Food Store Theme
Forked is a responsive  restaurant theme with an events manager, appointment app, unlimited colors, custom widgets, Google Maps integration, demo content, and more.  From regional or ethnic foods like Norwegian or perhaps Ethiopian, cafeterias, bar and grills, fast casual, fine dining or fast food or burger joints may genuinely profit by a well built, tasty restaurant theme for WordPress, stuffed with valuable options.  Operating a food service business can be a difficult task, and that means you will definitely need a well made, user friendly theme that permits you to spend much more time managing your restaurant and far less time managing your site.
---
Pizzaro WordPress Pizzaria Theme
Pizzaro was built to be a cutting edge pizza shop theme, with online ordering, a bunch of great looking food menus, easy navigation, fantastic high-res images and more.  It's the ultimate pizzaria theme, but it doesn't stop there.  This unbelievably scrumptious looking WordPress theme is an ideal option for an extraordinary and exceptionally functional web site for your establishment, regardless of whether it's a hot dog stands, sandwich shops, bar food, fine dining, fast casual or fast food or cultural or ethnic foods such as Norwegian or perhaps Irish.
This gorgeous, easy to use, cutting edge, versatile and reliable theme permits you to supervise delivery and inventory, build your company, market brand new items, advertise existing items and communicate with shoppers and more.  For pizza shops that really want the best first impression, a simple ordering process and clear navigation, Pizzaro is a wonderful pick.
The most popular WordPress drag and drop page builder plugin is called Visual Composer, as it is an exceptionally compelling and quite functional solution to create the sort of website you would like with the design and functions you'd like.  Pizzaro uses Visual Composer to it's fullest, allowing your site to fly with it's own wings, creating a dynamic and unique layout based on your needs.  This theme is extremely multi-purpose so you can use it on any kind of site, one that offers numerous helpful, popular abilities, built with classic style and a gorgeous design, user friendly with a lot of fantastic help and documentation and professionally designed and responsive so it works well on any kind of screen.  Pizzaro may be your next pizza shop theme.
---
Capella
This is Cappella and it has only one thing in mind, to help you create a fantastic website for your restaurant establishment.  To help save energy and time, you might want to pick a WordPress theme which is previously been made, with wonderful features to help save you time and energy, so that you can devote additional effort maintaining your organization.  In the event you don't have the time or capabilities required to generate and take care of your own site, you may want to select a first-class restaurant theme to assist you in saving you precious time.  Sometimes it seems that there is not enough time in the day to grow business for your establishment, which is the reason it can be a great idea to pick a template that's already had the bugs worked out of it.
Cappella does it all, from fast casual, fast food or fine dining, taco stands, regional or ethnic foods such as Hungarian or Indian, coffee houses or noodle shops may all make the most use of a good looking and user friendly WordPress restaurant theme.  A wonderful looking WordPress restaurant theme like Cappella could be perfect for food carts or food trucks, cafes, cultural or ethnic foods such as sushi or Indian, fast food, fine dining or fast casual or pubs are a great way to help your culinary business stay ahead of the competitors.  There's no limit to what you can do with Cappella.
---
Espresso WordPress Bistro and Cafe Theme
Espresso is a modern, feature filled restaurant theme for WordPress.  Let's take a look at the features, shall we?  It's almost a given that this theme is responsive, since it's imperative for a restaurant site to be responsive.  That means that if a potential diner is looking at your site on their phone or tablet, they'll be able to see a well designed site, no matter what.  Just like the designer intended.  Responsive designs are such a key right now, I can't recommend them highly enough.  Espresso has an exclusive menu builer to allow you to craft your menu with ease.  No more linking to a PDF!  The menu builder is easy to adjust and update too, so if you change your menu daily, seasonally or only once in a while, it's still simple to switch up.  You can use Visual Composer to create the layout you want, but that's not a requirement.  If you'd like, you can use one of the well crafted pre-built designs, which look great right out of the box.  Just add your content and go.
Food Recipes WordPress Simple Recipes Theme
The Food Recipes WordPress theme is a modern, beautifully crafted WordPress recipes and restauranteur theme.  This is one feature rich template that spares no expense in terms of design quality, typography, support and documentation.  It's a beautifully designed WordPress theme for any sort of a recipe website, food blog, culinary magazine or whatever your heart desires, really.  Professional Chefs, Cooking Experts and even enthusiastic eaters will love this theme, because it loads quickly, is well documented and well supported too, meaning that if you ever get into any trouble installing or setting the theme up, it's a snap to get the issue solved.
FoodBlog WordPress Blog for Restaurants
FoodBlog is a fantastic food blogging theme that's among the very best on the market for blogging about food and restaurants.  It's simple, clear design makes it a great theme for blogging and the responsive design makes FoodBlog look great on any device.  There's unrivaled support from Magazine3.com and the admin control panel makes this theme very simple to customize.  The built in SEO options and the advertising placement areas make it a simple process to monetize your blog too, if you want to have advertisements on your page.  FoodBlog isn't a traditional theme for a restauran, but we just felt like we had to put this one in here, because it's so well designed.
Sweet Cake WordPress Cake Shop Theme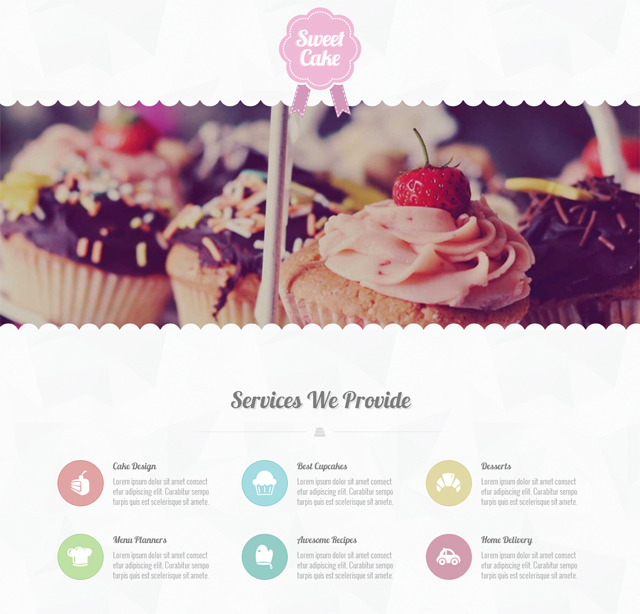 Sweet Cake WordPress theme is very sweet, fun and creative design that could be perfect for bakeries, ice cream shops, candy shops, restaurants and cake designers, though it's flexible enough that if you want to, you can change the colors to adapt the theme for any sort of food related buiness.  Sweetcakes could be a perfect theme for food blogs, restaurant bloggers or other sorts of general food related websites.  Maybe even your restaurant, bakery, cupcake shop or something else?  Who knows, this theme is perfect for exploring what's possible in the culinary world.  Sweet Cake is a well designed, clean and modern theme, with plenty of whitespace, so your content will be perfectly framed, making the central focus of your reader's attention squarely on your content.  The black font on a white background is the simples, easiest to read design, so the typography won't disrtact your readers either.
iCook WordPress Recipes and Food Blog Theme
This theme, called iCook, is a wonderful WordPress culinary theme, perfect for recipe blogs, cooking websites, restaurants or any sort of website where food is the center of focus.  iCook gives you everything you need to showcase recipes in a very stylish way, beautifully expressing your content with a perfectly frame for your posts, recipes and other articles.  iCook is perfectly built responive theme, with a clean design that's ideal for any food blog, recipe blog or restaurant site.  Perfectly suited to beginners and WordPress experts alike, iCook allows you to build recipes using a handy custom shortcode, making it simple to list ingredients and give a little tutorial on how to properly cook the recipe.  Filter recipes by keyword, ingredients, popularity and more.
Rosa WordPress BBQ Restaurant Theme
Rosa is highly an incredible theme for highlighting the strengths of your restaurant, with a simple to customize set of features and an attractive and sleek design, Rosa looks as tasty as the food on your table.
Rosa makes the most out of short-codes that have been custom designed, so you'll be building menus, sections, descriptions and products, as well as price tables.  Integrate Rose with OpenTable, so you can let your customers make reservations without having to call in.  That saves you time, since the front of the house won't have to answer the phone every 5 minutes during a rush.  If you sell products, like sauces, recipe books, shirts or roasted coffee beans, whatever the product is, you can sell it with WooCommerce in your brand new, smoothly functioning online shop.  You'll develop a dedicated following by making a recipes section to highlight and feature the wonderful dishes you serve up.  That helps build a buzz about your space even if those customers never come in to eat, they'll be talking about the cool looking, well appointed restaurant they saw on the internet.
Rosa possesses an intelligently designed menu, so you can create beautiful, simple navigation that makes sense for your restaurant.  Keep the focus where it belongs, on your food.  The theme is heavily angled toward gorgeous photographs of your food, so this would be ideal as a food blog theme, a food critic site or something related.  With unlimited icons and font options to match the branding of your restaurant and a strong and lovely gallery section, every single dish you serve up will look scrumptious at high resolution.
---
Rosemary Clean, Minimal WordPress Restaurant Theme
The fully responsive Rosemary WordPress theme provides a bright, elegant, and attractive solution for any blog or static website you need. The structure combines utility with customization options to create a truly bespoke look and style to display your content with ease. Diverse options for each page include such amazing features like multiple slider options and integrated Instagram footer widgets. Five various slideshow designs were added by the developers recently to boost the possibilities even more. Rosemary supports a multitude of widgets like About Me and plugins like Contact Form 7. Intuitive toggle controls let you turn these and other features on and off as easily as turning off a light. The included WordPress Customizer panel helps even non-developers create unique navigation menus, change to any color scheme you prefer, and make other edits that make any website built with the Rosemary WordPress theme.
The restaurant business as as cutthroat and competitive as it gets, and it can be tough to truly thrive.  Margins can be low, competition is definitely very high, so you need a strategy to market your business, whether you're a Mom-n-Pop restaurant, or you're trying to start a chain of high end bistros, a breakfast joint or a burger stand.  Coffee shops and BBQ joints, there are themes out there to fit just about any kind of business model.  We're here to help you find the right fit, because having a high quality and beautiful website is the first step in reaching your potential customers.  Most people actually like to check out the website, and especially the menu, before they decide to go to a new place.  And a lot of people want to have the ability to make a reservation online too, especially using a mobile device.  All of that is very important to think about when looking at a restaurant theme for WordPress.
Get the word out, build a buzz, get customers coming back for more, all without having to learn how to code.  This is a fantastic way to make contact with your target demographic.  If you'd like to have that web presence, try a well crafted, organized and gorgeous theme from this list.  These themes have done the design work for you, meaning you won't spend your time dealing with tracking down designers to create a custom website.  Remember, you'll want a responsive theme to allow your customers to peruse your menu and see your location, your phone number too, all while they are in the comfort of their own home on a mobile device.  These restaurant WordPress themes should allow you to make a menu and post it, no more links to images or PDF's (personal pet peeve) for a menu, you can just set up a custom page with the menu.  That will load faster and give your users a better experience and present your restaurant in a really professional light.
---
61+ Of The Best WordPress Parallax Themes
23+ Of The Best WordPress Minimalist Themes
23+ Of The Best WordPress Personal Blog Themes
25+ Of The Best WordPress Multi-Purpose Themes